Abstract world is more than meets the eye
Posted on January 27, 2015 by Sunny South News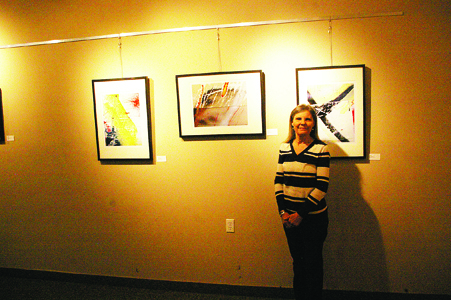 By Stan Ashbee
Sunny South News
Elaine Steinke, from Bellevue, Alta., is this month's featured artist at the McCain Gallery at the Coaldale Public Library.
Steinke's original abstract and macro-photography is on display until Feb. 25.
This marks the second time her work has been featured at the Coaldale art gallery and the artist noted she intends to do series work.
"I started a number of years ago with a series and it was called, 'Of Mysteries' and from there I sort of expanded each of the images, a series of images and added to them. All of the images are of abstract photography and macro-photography," said Steinke.
Her finished pieces, Steinke explained, are usually 18-by-20 inches but the actual piece of the picture she took, the macro-photography, is anywhere from two to three inches in size. "It's a very small image but when it's blown up it takes on a different character," said the Crowsnest Pass-based artist.
A number of years ago, Steinke said, the first series she started working with macro-photography — she also started working with metal that was rusted, dirty and scratched.
"I actually discovered an old car body up in Bellevue, up in behind our home, I was up for a hike and there was moss and grass and bird droppings and dirt and all kinds of action had happened on the metal," she said.
Steinke refers to the items in her pictures, as found images. She explained, similar to an explorer, she discovers objects and then focuses on them very close up.
Currently, Steinke is in the process of fine tuning her interests in creating landscapes and places. She said she is inspired by a book entitled, "The Dictionary of Imaginary Places," which includes a number of fictional locales from "Lord of the Rings" and she is also inspired by different classical literature.
"As I'm reading that book and I'm finding names of places and names of cities and names of worlds — then, as I'm doing my photography, I've sort of combined the two. My love of literature and my love of that kind of fantasy world and science fiction, has kind of combined with my photography. I love creating other places and other worlds where there might be other inhabitants and yet it's created out of the world I find around me and I discover around me in the images that I take," said Steinke, who has over 10 pieces of her work on display presently in Coaldale.
"It's a lovely venue," she said, adding her work has been featured in the Crowsnest Pass and in Edmonton.
According to Steinke, she has been doing photography since she was a little girl but didn't start showing off her work until she became an early senior.
In the future, Steinke hopes to expand on her series work. One area Steinke would like to explore is the aspect of weathered paint on metal.
"It's begun to take on a feel of early North American wood cuts — where they've taken a block of wood and they cut an image into it and then ink it. It's an early type of print making. I think I want to move my photography that way," said Steinke.