Coaldale gardens grow community
Posted on July 28, 2015 by Sunny South News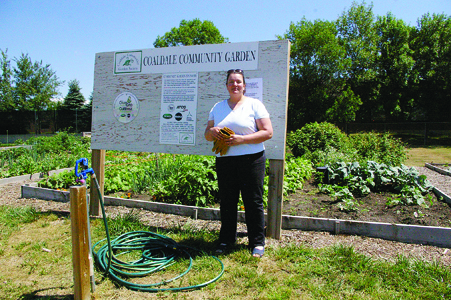 By Stan Ashbee
Sunny South News
Coaldale's community gardens have been the victim of vandalism, which seemed to occur right after the last day of school in Coaldale at the end of June.
According to board member Julie Landry-Deboer of the Coaldale Community Garden Society, the issue has been culprits coming into the gardens and pulling out plants and throwing the plants to the ground, which is a waste, since the culprits didn't even eat any of the plants uprooted.
"People pay for these plots. It's rented and they work hard to sow and harvest their own crops. We'd like to leave it like that. We want people to come and enjoy, as they walk by and say 'This is a wonderful thing and how do I get involved?'" The gardens are also considered part of a not-for-profit society.
Prep work on the community gardens concept took close to two years before local gardeners began digging in.
"There was probably a two-year process before we actually started gardening — this is our fourth year gardening," she noted.
Landry-Deboer said the society has leased a large area from the Town of Coaldale and the agreement in place is if the society takes care of the community gardens, the town will keep leasing the society the land — which is now, even equipped with its own water source.
"Now, we have our own. We have to pay like every other resident in town," before that, the group borrowed the sprinkler systems in place at Millennium Park, where the community gardens are located. And, water was also graciously donated by the nearby Coaldale Health Centre.
According to the green thumb, there are 14 garden plots to rent, of varying sizes and prices and because the group is a society, there is a membership fee.
"Gardeners pay for their spot and take care of it. They water and weed all the paths," she said, adding currently the plots are full but there is a waiting list for those wanting to dig into the fun.
"We also have two communal plots for the gardeners — raspberries that they can pick. They maintain them, so they get the profits of the harvest," she added, plus there are strawberries growing.
Gardeners who pay the rent on their plot or plots collectively maintain, weed and help with watering the communal area plus they get the fruit, once ready to be picked.
Landry-Deboer noted food donations have also been given to the Coaldale Food Bank, when there's a food surplus or if a local gardener wants to donate.
"Our very first year we had a lady who decided she was giving her whole plot to the food bank. That does happen."
The society started off as a branch of Coaldale Communities In Bloom. "That's kind of where our basis is. They gave us seed money to start," said Landry-Deboer, adding help also came from various groups and organizations who donated supplies, manual labour and funds.
The idea of the community gardens in Coaldale was originally initiated because of the notion residents needed a place to grow food, if they didn't already have gardens in their own yards. "There's several schools in the vicinity that can come here and actually witness where food comes from. They can see — this is how you plant seeds and you grow your own food. It doesn't just come from the grocery store. It's a big learning thing for my kids because I bring my kids out here. I don't have a plot but they come help and pull weeds and they learn what it's all about."
One of the great things about growing food in a community garden is the harvest is organic.
"We don't spray unless we have to," she said. "For the most part, it's all organic and there's a health benefit for organic food. There's health benefits from gardening — you're getting out and you're active and you're getting vitamin D from the sun and you're growing your own food. All round — it's all positive."
There's also an urban edible forest at the community gardens, according to Landry-Deboer. "That portion of the garden is open to the public. If there's fruit bearing they are welcome to that," she added, but the edible forest is fairly new and isn't bearing much fruit quite yet.
Coaldale's community gardens are nestled in the Millennium Park, just west of the Coaldale Health Centre and east of the Community Centre. For more information about the society check out the Coaldale Community Garden Society Facebook page or click on the link on the town's website.