Electrifying life for Coaldale's Kenner Electric
Posted on November 24, 2015 by Sunny South News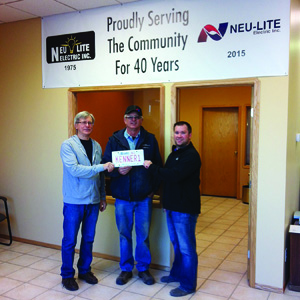 By Stan Ashbee
Sunny South News
What used to be Kenner Electric in Coaldale is now Neu-Lite Electric. Originally owned and operated by Ken Rogalsky and his wife for the past 35 years, Rogalsky is hitting the switch to retirement.
It has come full-circle, Rogalsky said, as he started out with Neu-Lite Electric as a young electrician over 35 years ago and he was even involved with hiring one of the owners Fred Poehlmann back in the day.
Ken noted he was with Neu-Lite for five years and started Kenner Electric Jan. 1 of 1981, which has served Lethbridge County and surrounding area for over three decades.
Ken's retiring but he said he's going to continue to work with the new business on a part-time basis.
"Just transferring customers over — long-time customers that I've had that are still in the process of finishing off some jobs," Rogalsky said, adding he will help new owners Steve Schafer and Poehlmann with transitioning.
After a year of part-time work with Neu-Lite, Ken said, he plans on doing whatever he wants. "Do a lot more golfing," he joked
Rogalsky said he even received a personalized licence plate from the new owners and he slapped it on a new truck he purchased for his retirement.
As for spending most of his life operating a bustling business in Coaldale, he said it's been an awesome experience.
"It's been awesome, the support you get from the whole community. From Picture Butte, Iron Springs, and all over the county," said Rogalsky.
One of the aspects of growing as a business and with technology is adapting to the latest trends.
"That's what's made being an electrician so much fun. I've been at it for 47 years. When I started there was no such thing as computers. There was nothing computerized. Now, everything's computerized," he said, adding nowadays a person can control lights and temperature in the house by i-Phone. Rogalsky added he's adapted and has sold the newest in technology on a daily basis over the years.