Ebel is right on track with model railway club
Posted on March 15, 2016 by Sunny South News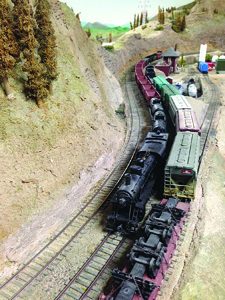 By Stan Ashbee
Sunny South News
Model trains have thrilled the young and young-at-heart since the dawn of the plastic model railway tracks and toys left underneath a Christmas tree or given as a present from a loved one or passed down from a family member.
Throughout the ages there have been many a model train enthusiast including fictional 1960s character Gomez Addams, legendary Man In Black Johnny Cash, Rod "Do You Think I'm Sexy?" Stewart, Canadian music icon Neil Young, crooner Frank Sinatra, Gary "What You Talking About Willis?" Coleman from "Different Strokes" and on the hit Netflix series "Trailer Park Boys" 1980s rock band Skid Row vocalist and "Gilmore Girls" actor Sebastian Bach hatched an idea with Bubbles, Ricky and Julian to transport illegal drugs across the Canadian and U.S. border via model railroad.
Model railroading can be tracked through pop culture for decades. Choo choo! All aboard! Even the little engine that could delighted fans of the beloved model railway and its coveted trains of splendor.
This weekend, marks the Southern Alberta Model Railway Club's (SAMRC) annual spring open house in Lethbridge from 10 a.m. to 4 p.m. Saturday and Sunday.
The open house will be held at the club's location in Gyro Park at 15 Street and 10 Avenue A South.
According to Martin Ebel, the club's open house co-ordinator in civilian life and Lethbridge County's Economic Development Officer, both the HO-gauge and the N-gauge layout will be operating.
He noted everyone from the county and abroad is welcome and voluntary donations would be gratefully accepted at the door.
Ebel added the open house is a family-friendly event and the club is over 40 years old and is in the process of kicking off a building expansion. "I know a lot of county residents will end up going into Lethbridge at some point or another every week. Maybe some know about it. Maybe some don't but we've got a lot of families in the county, it's a very family-friendly event and free," said Ebel.
Ebel said the club has existed since the winter of 1971/1972 and is a club of model railroaders that meet regularly with the mission of the club to be publicly accessible and to recruit new members.
"Part of that is twice a year, we have an open house. People are always welcome to drop by on a Tuesday evening and just have a look but these are kind of the formal open houses we really set up for the public. We have all the trains going. There's members there to answer questions. We feel it's important, we want to share the hobby with the residents of southern Alberta and showcase it," Ebel explained.
Ebel said he was, for the most part, interested in model railways and trains since a little boy.
"When I was little my dad had some electric trains for me, which I really like. I kind of drifted away out of the hobby in my high school years into well into my 30s and then kind of rediscovered it. And I've really been enjoying it again. There's so many facets to the hobby. Some people really enjoy researching the history of railways, some people like planning the layout, some people like working with the electronics, some people like just running the trains, and some people like building it or landscaping," Ebel said.
The hobby, Ebel added, can be approached from different angles and is not just one thing perse.
"There's a lot of camaraderie. It's a hobby where there's a lot of sharing of knowledge, sharing of techniques, so it's not competitive — it's a collaborative hobby," Ebel said.
Ebel added he also brings his daughter with him to the club.
"Right now she just does simple things like building trees or other simple projects but it's a hobby you can grow up with too."
Currently, the SAMRC has 34 members and members not just from Lethbridge and surrounding area. Ebel said members come from Fernie, B.C. and Medicine Hat.
Like many model railroaders, Ebel said, he has a whole bunch of plans in his head in regards to dream projects he'd like to work on.
"I model N-scale, which is 160 times smaller than the original and it's mainly for space reasons. You can fit more in. I just have a general interest in trains and model railroading," he said.
According to the model railroader, he's been a member of the local club for a few years but some members have been involved in the hobby for 50 years and others who have just been with the club for a few months. "It's a real range of experience and perspectives."
As for celebrities taking a liking to the hobby, Ebel said, Stewart is one that immediately comes to mind to many people associated with model railroading. "He takes cases of supplies with him when he goes on tour. When he's in his hotel room, if he's working on a building, let's say a factory or something, he unpacks his cases and that is some of what he does in his off time," noted Ebel. For more info visit:
www3.telus.net/samrc/index.html.