Highway 3 collision fatality
Posted on May 11, 2021 by Sunny South News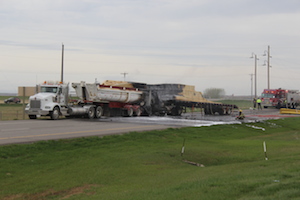 Southern Alberta Newspapers photo
Tim Kalinowski
Southern Alberta Newspapers
Police are confirming a man from Granum died at the scene of a fiery collision on Highway 3 near Coalhurst on Friday morning.
According to the Coaldale RCMP, the Coalhurst Fire Department and RCMP members responded at approximately 9:50 a.m. to a collision involving two semi-trucks near the Kipp Road.
One of the semi-trucks, which was hauling lumber, caught on fire, and one of the drivers, identified by police as a resident of Granum, was found deceased on the scene. Both vehicles were travelling eastbound toward Lethbridge when the accident occurred.
Based on eyewitness reports from the scene, it appeared the lumber truck had collided with the other semi-truck from behind. The Calgary Medical Examiners Office was notified and will be investigating the cause of the accident, alongside the RCMP.
Traffic was diverted for several hours around the scene, as firefighters tried to get the blaze under control, and later as RCMP accident reconstruction experts examined the accident site.