Kate Andrews serves out breast cancer in volleyball tournament
Posted on October 24, 2017 by Sunny South News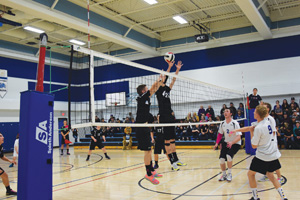 Sunny South News photo by Nikki Jamieson
By Nikki Jamieson
Sunny South News
This past weekend, the boys volleyball team exchanged their school colours to raise awareness for breast cancer.
In their annual Sr. Boys Pride Invitational Volleyball Tournament, the Kate Andrew's High School team decided to use it as an opportunity to raise awareness for breast cancer research.
"The timing was perfect, with it being Breast Cancer Awareness month. And quite obviously" said Austin Davenport, athletic director at Kate Andrews., noting that a group of parents were behind the idea. "It's an awesome opportunity for Kate Andrews to kind of give back to the community, and I know there's been many people within our school, within our staff, that have been affected by cancer, or breast cancer specifically, so I think it is a great initiative, and it felt like the right thing to do."
The tournament, which kicked off last Friday with playoffs on Saturday, was the first year they decided to do the fundraiser.
Visiting teams have been asked to wear pink, with the Kate Andrews team having pink shirt for warm up, along with pink mini-volleyballs to toss into the crowd. Several Kate Andrews player were wearing pink shoe laces, headbands or knee pads, and the team had special pink socks with the breast cancer emblem on them as well. Tournament attendees were encouraged to wear pink, with Davenport saying he hoped to see "a sea of pink".
Pink rubber bracelets with a catchy slogan were sold for fundraising efforts — although donations are always welcome — with the team donating the proceeds to breast cancer research. Baked goods were also sold as well.
"Being our first year, we kind of started small, but as a parent group, and with the support of the school and the players, we intend to build on this," said Jamie Klasson, a parent rep with the Kate Andrews boys volleyball team. "This year, it will just be the sale of the bracelets. But again, hoping to grow on that either through pledges or silent auctions. There is just so many ideas that we, in the short amount of time we had to plan this, it just seems like the best option."
Klasson noted that if the breast cancer awareness portion tournament became an annual fundraiser, they would have more time to do more.
"We're hoping this will start something," said Klasson.
"I can't think of a good reason we wouldn't make this an annual thing," said Davenport. "How it looks like year to year might be a little different, but certainly the same general theme of trying to support and raise money for breast cancer."
The boys volleyball team was able to raise $370, and place third in the tournament behind Immanuel Christian High School Eagles (first place) and Heritage Christian Academy Hawks (second place). The senior girls Pride team will also be raising money for Breast Cancer Awareness during their game this Wednesday against Chinook High School, during their Senior Night, with JV games start at 6:00 and the senior game to follow.