Neil Diamond and deep fried pumpkin pie
Posted on May 19, 2015 by Sunny South News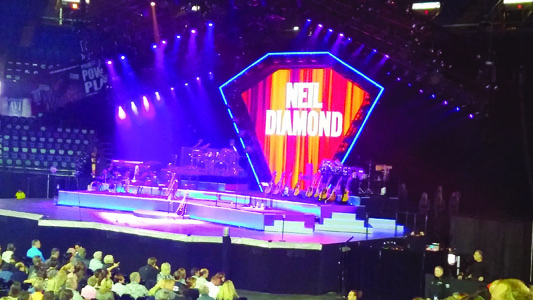 By Stan Ashbee
There's something almost magical about hearing a crowd of thousands singing in unison "Ba ba ba" after the one and only Neil Diamond seamlessly sings the words, "Sweet Caroline." The "Neil" is one of the all-time greats and his current world tour is a must see for any music fan of any sort.
It's as if audience members were transported back in time to when Mr. Diamond was beginning his foray into the hallowed halls of music history. Like a fine wine, Diamond's golden voice has become even better over the test of time. He has aged gracefully without ever losing his signature showmanship and never losing a beat.
To hear and see Neil Diamond live is a once in a lifetime experience. I had such an experience in Calgary at the Saddledome earlier this month. I had heard the legends about "The Jazz Singer" in concert and now I can brag, "I've heard the Neil sing."
From "I'm A Believer" to "Cherry Cherry" to "Cracklin' Rosie" to "America" — his hits are endless and his universal reach is globally loved by all.
I couldn't stop thinking about "Saving Silverman" — a movie sort of about Diamonds in the Rough, a Neil Diamond tribute band, who end up kidnapping the actual Neil Diamond (in a cameo performance) all in the name of love. The movie stars Jack Black, Jason Biggs and Steve Zahn. If you've seen the movie, you can't help but think about it when you are sitting waiting to see one of the greats belt out the tunes from inclusions in the Great American Songbook.
Words cannot express the feeling one experiences, as he/she listens to Mr. Diamond, as he serenades the audience with his velvet distinctive voice. Yes, this writer can honestly admit to a man-crush on the "Neil," as most would agree, Neil Diamond is a musical force to be reckoned with.
On May 2 (the day of the unforgettable Neil Diamond show), I also paid a visit to a delicious event in Lethbridge, which hopefully was enjoyed by Lethbridge County residents, as well.
It was the Lethbridge Food Show, which featured many local eateries, caterers and food trucks from the city and even a local chef challenge entertained the crowd, as guests filled their faces with delight plus the event featured an ice carver.
Some of the delectable goodies included a barbecue pork sundae, a beer cheese slider, a butter chicken dog and my two personal favourites — deep fried ravioli with potato and cheddar and deep fried pumpkin pie.
It was a chance to sample some interesting eats in one venue. Thanks to Adam Essex for putting on a great inaugural event at Exhibition Park.