Bill Engvall is just your next door neighbour kind of comedy show
Posted on January 26, 2016 by Sunny South News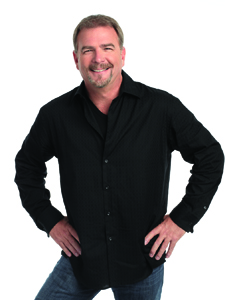 By Stan Ashbee
When it comes to comedy, Bill Engvall's got it covered. Many Lethbridge County residents, no doubt, are aware of Engvall's inclusion in the "Blue Collar Comedy" concert films and tours, which also featured fellow comedians Jeff Foxworthy and Larry the Cable Guy. The Grammy nominated and multi-platinum selling recording artist comedian also starred in the TBS sitcom "The Bill Engvall Show" and was a contestant on ABC's "Dancing with the Stars," where he made it to the finals. Engvall returns to Calgary Jan. 28 at the Grey Eagle Event Centre and he looks forward to getting back together with his cowboys and cowgirls in southern Alberta.
"I'm looking forward to getting back up to Calgary. It has been awhile. Which is one of those kind of double-edged swords. I always like to get back to other places but I always like to have a little time to give them some new material," said Engvall, during a recent chat with the Sunny South News. "I've been on tour since 1982," he joked.
According to Engvall, he averages between 80-90 shows a year and Canada has always been supportive of the comedian's work.
"I told my wife, if I had to move to another country, Canada would be number one on the list. I don't know what it is, I don't know if it's just that I do a clean relatable kind of I'm your next door neighbour kind of show or what it is but I love performing in Canada. Shows are always great. They're big fans of comedy," said Engvall. "Which helps in my business," he joked.
Engvall's albums include "Here's Your Sign" and "Dorkfish" and he even released an autobiography entitled, "Bill Engvall — Just A Guy" in 2007. 2016 is also gearing up to be another busy year for the comedian.
"The people that come out to see the show at the Grey Eagle are going to get a little sneak preview of my new special that will be coming out, hopefully this next year. I just finished shooting a movie, where I play someone that no one is going to expect to see me in. A lot of good things going on," he noted.
Back in the day, Engvall worked as a disc jockey in Dallas with aspirations to teach but he had a chance to try stand-up comedy one night and he fell in love with making people laugh, which was good news for comedy fans.
Engvall hosted A & E's "Evening at the Improv," has appeared on "The Tonight Show" and "Late Show with David Letterman" and in the early 1990s he won the American Comedy Award for "Best Male Stand-up Comedian." Over the years, Engvall also appeared on episodes of "Designing Women" and "The Jeff Foxworthy Show."
"I'd love another shot at a TV series but we'll see if that happens. I had a busy year last year. We'll see what 2016 brings but hopefully it brings more television and movie work. I really enjoy that because it gives me a chance to be home and I'm not travelling as much. I enjoy getting out on the road and meeting people and seeing different towns and going back to places I've seen that I had a good time at and Calgary being one of those," he said.
"One of the feathers in my cap is I got to work the Calgary Stampede, which was really a blast."
As for live comedy, Engvall believes everything is cyclical.
"I'd like to see comedy come back the way it was in the 1980s and 1990s. Especially this day and age, people got to get out and laugh. That's one of the reasons I do my show the way I do it. I don't do any political stuff or religious stuff or even news stuff because it's here and gone. People hear that stuff all day long and I try to bring in a show that just kind of talks about life and I want people to say, 'Hey, he's like me.' I tell people I don't want you to think you're going to see a stand-up show, you're going to see like we're just sitting around your living room and I'm the funny guy doing the talking," he said.
For laughs, Engvall said, there's always something going on in his own life to chuckle about.
"My wife and I just built a house together and I may market a new bumper sticker that says 'If you think you know your spouse, build a house,'" he joked.
But, he added, that's the kind of stuff that provides him with new material.
"The show I'm bringing up, I'm talking about my experience on 'Dancing with the Stars,' which was something I never saw coming my way. Because of that, I had to have my knee replaced and then two weeks later I got kidney stones and then I got shingles. I told my wife, I go, I swear the doctor's going to look at you and go, man just sell him for parts, it's just not worth it," he joked.
During his live show, Engvall talks about getting older, as he's been doing comedy for the past 35 years but nowadays he talks about life through bi-focal glasses.
"I never saw this being my job but I love the fact it is," he added.