Toward a new homeland: Part Three
Posted on March 22, 2016 by Sunny South News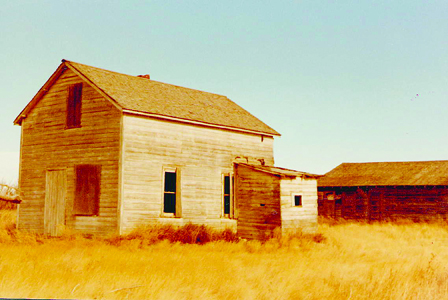 By Jacoba van Rijn-Dubbeling
Nick and Jacoba van Rijn began thinking about a move to Canada in 1952 from Holland. The following are letters written and sent back home. The letters were translated and rewritten from the original letters to make them more readable in early 2000 by Nick, one of Jacoba's sons.
According to Nick, his motivation in doing the translation was the realization his mom's letters, written in Dutch, were not accessible to her scores of descendants living here.
"Although there were only six letters (a pity mom didn't keep writing), there's a great deal of family history there, and it's also a fascinating story with lots of intimate detail. And, after my parents died, I realized this history — their history, our history — would be lost if it wasn't put into English. My family here (and overseas) have little idea now of what our parents went through back then. Their courage and drive in blindly setting out for Canada with the goal of creating new opportunities for their kids is awesome. Our dad was 50 when we came over and mom was 40," he explained.
To sell off land, a house, possessions, and set off with 13 children for a land, while not knowing anyone and not being able to speak the language — must have been impossibly difficult, Nick added. "But they made the impossible possible, and I wanted my family to always know what our parents went through to get us here. It's also a story of Canada, and southern Alberta, for countless millions of other immigrants took the same leap of faith, faced the same difficulties — or worse — when they came over. But they took the chance, and we haven't looked back since.And that story continues today as Canada, and Canadians, continue to embrace and welcome new Canadians to our shores," Nick said.
Toward a New Homeland: Part three (Continued)
Picture Butte May 16, 1953
"And, as a gift, I received a big soup pot. We bake our own bread. One hundred pounds of flour for $6.25. We can bake some bread with that. The children can only go to school in September. That's because of examinations, and at the end of June there's vacation until September. But in another 14 days they'll be busy in the sugar beets. Everything is freshly seeded, and we're waiting to begin work. Our farmer is a nice guy, a Czechoslovakian, his wife also. They arrived here with their parents 28 years ago, but they speak English with difficulty. The sound comes from the back of the throat. But we understand each other clearly.
Milk comes with the house, and eggs are there for the gathering. They've got a big farm with a lot of cows, pigs and chickens. When we learned that a calf had been born we asked for the "biest," the first milking, they don't know about that here. Well, it was delicious — just the way it tastes in Holland.
Life here is simple and free — not at all narrow or small-minded."
Toward a New Homeland: 3
A Letter from Canada — Picture Butte Aug. 30, 1953
"So how does an immigrant to Canada begin a new life?
You begin with courage, you forget the old, and you build a new future.
However difficult it is in the beginning, the moment you 're settled in your new surroundings you find yourself looking back once more to that beautiful little country of Holland, the land you've left behind, and at your new surroundings, where your new beginnings lie, and you take on the unknown.
We're doing well. We received a comfortable farmer's house, with lots of room for our family. But, without plumbing, and without electricity. Water we get from a stream, and for light we have an oil lamp. But before the winter we're going to get electricity. We had $125 (about $900 in 2002) when we landed. That was all. So our expenses — bread, butter, spreads, fruit, drink, etc. during our train journey of five days and nights — were our own responsibility, and that quickly adds up with such a big family. So, with the little that was left over — our earthly riches — we stepped off the train in Lethbridge.
Now it's quite true, as they say, you earn a lot of money with a beet contract, that you can live quite comfortably for a year — if the harvest is good. And first, of course, the crop has to grow. When you arrive you go to the store with your farmer, it's a place where you can buy anything, whatever strikes your fancy. The farmer introduces you as his beet worker, and says he's responsible for your debts. He signs, and then you can buy on credit. When you receive your first pay, after the first hoeing, you pay the store. They expect that. So we were lucky.
One of our boys was able to start immediately with our farmer — four others got rides with Hollanders to a place 100 miles from home, where they found carpentry work in a factory. So, we didn't actually need all of that credit, because we had money coming in. We have a contract to clean 20 hectares of sugar beets, and the agreement is the work is done in four parts. With the first hoe, you thin the beets so there's only one left — for the second hoe, you cut away the weeds and again make sure you leave only one plant, and, for the third hoe, you walk through the beets and pull out the weeds that stick out.
*To be continued next week.