Toward a new homeland: Part Four
Posted on March 29, 2016 by Sunny South News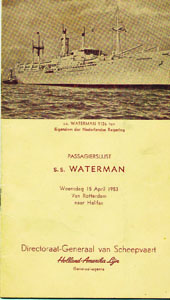 By Jacoba van Rijn-Dubbeling
Nick and Jacoba van Rijn began thinking about a move to Canada in 1952 from Holland. The following are letters written and sent back home. The letters were translated and rewritten from the original letters to make them more readable in early 2000 by Nick, one of Jacoba's sons.
"You get paid after every hoe but a portion of the money is held back until the last of the contracted work is carried out — the beet harvest, after which the accounts are settled.
You work for the farmer on his land, but your contract is with the sugar factory, and it checks your work if the farmer's got complaints. You're also paid by the sugar factory.
By Aug. 10, we were finished with the first, second and third hoe. Then you wait until mid-September, for the beet harvest. One of our boys went to another farmer after the first hoe, and the rest, together, went to another farmer to do the first hoe there. And after the second hoe one of our boys went to work 125 miles from home building roads, where he earns a good hourly wage. The way it is here is, if you've got a sugar beet contract, your house is included. And after the sugar beet harvest, if you've done your work satisfactorily, then you're offered the opportunity of doing it all again next year, and so you keep living free in your house.
If you'd rather live in town, or in the city, then you can expect to pay a fairly high rent. If you stay in the beets, you've got to pitch in during the summer, but you'll also be paid well.
There are a lot of German immigrants here. Most of them fled the Soviet zone. One farmer here got one such family as sugar beet workers, but they were factory workers, and never worked in the field. So after two weeks they were travelling again, fired by the farmer.
They're delighted here to get Dutch workers. You can hear the Canadians complaining, the Hollanders work far too hard. But if you expect to get ahead, begin something here for yourself, then you've got to look for other work after the beet harvest. And sometimes far from home.
This entire district is all farming, so to travel 200 or 300 miles to get to your winter job is nothing unusual. Then you get together and rent a sleeping cabin, one that's rented out to tourists in the summer. You can cook your own meals there, because everything's available. And with the weekend, you go home again.
We, as immigrants, find ourselves in a pleasant neighbourhood. Most of the farmers in our district are themselves immigrants, just about every country's represented, and you've really got to look hard if you want to find a Canadian farmer. There are also a lot of Hollanders in our neighbourhood — the closest lives seven miles from us.
At the moment it's beautiful here — green fields of beets and golden wheat fields interspersed with black summer fallow, and, on both sides of our country roads, ditches thick with sunflowers. It's a beautiful sight.
This is an immigrant's beginning. It is, in the beginning, a hard life. First, you've got to get used to it, and then you've got to adapt. But Canada is a beautiful land, one with a future. And then you've got us, coming here with 13 children including 11 sons. As parents concerned about a future for our children, we look at the results achieved by other Hollanders, people who have already been here for a couple of years. Two Hollanders, who also began as field hands, already have a beautiful farm, and you also hear of Dutch-owned farms in other parts of Canada. You can spot them because they're so well-maintained. And, even though most of us don't have our own business, you can still see it's good here, and that's what it's all about. With self-confidence you go to meet the future, even though, in the beginning, it's difficult.
Toward a New Homeland: 4
A Letter from Canada
Picture Butte Jan. 1, 1954
With these words we'd like to wish our family members, friends and acquaintances a hearty happy New Year. We receive a lot of mail from Holland, and many have asked us to send in another report, and that's something I'm happy to do.
When we ourselves wished each other a good and happy New Year we knew we could look back on a good year, a year in which we gambled the great step that's put us in this far-away and strange country called Canada, and from where we greet both our friends and our future. Because we're working, and we're earning.
On Oct. 19, our men left at 2 a.m. with 20 other Hollanders for Calgary, because they wanted to be at a certain job site when the work began. The strategy paid off for three of our boys — they could start work immediately. Calgary is a city of some 180,000 people. Very pretty, near the mountains. There's a highway that takes you up and between the mountains, so you see Calgary lying in a deep hollow.
One of our boys, Tom, went his own way, hitch-hiking to Fort Macleod, where he found a job in a restaurant and bakery. He was able to start immediately, and that was great, because he'd studied as a baker in Holland. He was in seventh heaven. After a week or three, Calgary had snow, and that put an end to working outside. So, unemployed, and that isn't so nice."
*To be continued next week.