Original guitar hero
Posted on April 19, 2016 by Sunny South News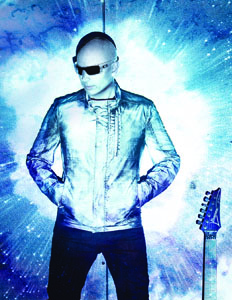 By Stan Ashbee
Living legend and original "guitar hero" Joe Satriani influenced many a teenage boy learning to play guitar back in the 1980s and onward and the guitar god even taught Metallica's Kirk Hammett and Steve Vai. Satriani returns to southern Alberta with a stop in Calgary Thursday night at the Grey Eagle Casino and Event Centre for an "evening with" career retrospective in support of his latest and 15th solo album "Shockwave Supernova."
Rolling Stone magazine coined the phrase, "30 Years of Mind-Bending Guitar Daredevilry" — as Satriani's first solo album "Not of this Earth" was released in 1986. Satriani has also designed and endorsed guitars, amps and effects pedals for Marshall and Vox and he released his JS Series of guitars through Ibanez. He has also been touted as the world's most commercially successful solo guitar performer and reigning grand champ of every six-string poll that's ever existed. Satch's side band Chickenfoot also caused quite a stir in the rock music world, as the super group consisted of former Van Halen alumni Sammy Hagar and Michael Anthony and Red Hot Chili Peppers drummer Chad Smith. Joe dedicated his life to being the world's most notable axe-man, legend has it, on Sept. 18, 1970 — the day his idol Jimi Hendrix died.
Satriani is happy to be returning to Alberta, where quite a few crew members have come from over the years. "We always treat it as a second or third hometown," Satriani noted.
From the very beginning, Satriani said, Canadians have been very supportive of the extraordinary artist.
"It's beautiful country side, although getting from Calgary trying to get to Kelowna in January — I remember all of our buses and trucks losing control on some mountain pass and sliding and all the snow. That's when I realized when a Canadian says to you 'the snow's not that bad,' it means something entirely different to somebody from California," he joked. "I think we did that run only once but we made it to the show. We got to the venue in Kelowna, only about a half an hour before we were supposed to play. I don't know how the guys got the show up and running. Our nerves were rather frazzled from driving in the snow, we got there and did the show and the audience was amazing," he added.
Satriani joked it's always crazy to think when a new record is released fans will like it but he and his band were blessed once again. "The fans and the critics really like this record. I think they understood what it was I was trying to do," he said, and they liked the sound and vibe.
The new music, Satriani said, translates to the stage well and that's been a real plus. "Sometimes when you go to take recorded music to the stage it can be awkward or sometimes stuff just doesn't translate to a theatre of 4,000 people but this record does. It just gets more and more exciting everytime we play it live," he noted.
Part of the tour, according to Satriani, is quite unique because it's an "evening with" show with no opening acts. "We take the stage right from the downbeat of the night and we own that stage all the way until the end. This gives us the ability to play a more extensive setlist," he said.
Looking back at 30 years in the music business and on the road, Satriani said, one of the strange side effects of online file sharing that started to ramp up in the 1990s forced bands out on tour.
"Once all these bands found themselves competing for venues every night all around the world, production values started to go up and people realized they really had to be good at it if they wanted to compete," Satriani said.
Satriani believes on the grass-roots level for unknown bands it might be harder these days to find a place to play because DJ culture replaced live band culture.
"That's a little bit difficult. That's where I think currently there's a bit of a disconnect. So many professional bands are constantly touring now because of reduced record sales of recordings."
But, Satriani said, it seems to be a catch-22. "When you're an amateur band there's no place to play. I can't quite figure that out but one thing you can count on is it will change. The music business is in a constant state of chaos, that is something you can count on," Satriani added. During Satriani's downtime between legs of his current tour he's been working on a combo amplifier for Marshall and ongoing work on an animation project.
"I've already got a signature 100-watt head that we've had out for over a year but I wanted to collaborate with the engineers with something a little bit more portable. I sort of dedicated most of my time to either doing that or working on 'Crystal Planet,' my sort of noir sci-fi adventure animation project. Those are things that kept me really busy over the holidays, while the other guys were out touring with their bands," he said.
Currently, Satriani said, he hasn't been thinking about any brand new music at the moment.
"I've just been thinking about bringing the whole 'Surfing the Shockwave Tour' to North America," said Satriani, rated "Guitar World" magazine's "Best Shredder" by fans.