Cochrane is truly Made in Canada
Posted on July 12, 2016 by Sunny South News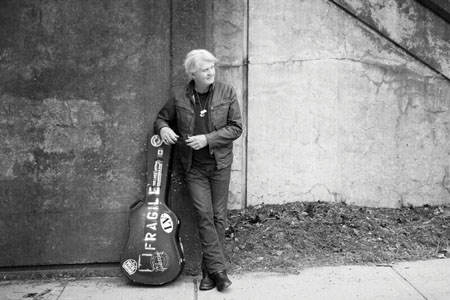 By Stan Ashbee
Sunny South News
Tom Cochrane is truly, "Made in Canada." He is a singer/songwriter with over four decades of recording and touring experience and is indeed one of Canada's most beloved troubadours.
From fronting Red Rider, one of Canada's premiere bands, to expressing to his fellow Canadians "Life is a Highway," as a solo artist — the multi-talented musician from Lynn Lake, Manitoba and son of a bush pilot, is also an Order of Canada recipient, a Canadian Music Hall of Fame inductee, has won eight Juno Awards and received an Allan Waters Humanitarian Award. Cochrane performs with Red Rider at the Grey Eagle Casino and Event Centre in Calgary July 22 and headlines the Lethbridge Music Festival's Rockin' the Stadium at Spitz Stadium July 23.
"I feel very lucky and blessed to be able to keep doing what I love to do — making a living at it and making people smile. I just love Alberta," Cochrane noted earlier this summer, adding it was tough watching people go through what they went through during the wildfire in Fort McMurray.
Back in April, Cochrane was in Calgary at the 2016 Juno Awards as a presenter, where he had the opportunity to meet many of the young up and coming artists also proud to call Canada home.
"It was good meeting some of those people at the Junos — it's always a thrill, seeing these kids before they get a chance to get out there and get pummelled by the road," he said, adding Canadian music remains a vital and vibrant scene both nationally and internationally. He noted the young artists today seem more mature and focused at a younger age than in the past.
"I think there was a point where four of the five top singles were Canadian on Billboard, not so long ago. I think we as Canada are an incredible talent," said Cochrane.
It's frustrating though, Cochrane explained, because for those that lived through the golden era of music — record and CD sales mattered.
"Now, it's the poster for the tour. That's what's going on and it's tough. Kids have to work extra hard, but you know what, it's always boiled down to live really, no matter what you were doing," he said, adding it was always really important to get out on the road and play live.
And that, in essence, Cochrane said — is what the music is about.
"For me, I think technology kind of factors into it quite a bit but for the most part, we try to be extremely honest with what we do. It's one of the things people keep going back to — the classic rock. And it's been proven to cover all demographics. We just try to be honest to the music. That part of it hasn't changed that much. We're not DJ or dub artists, that's not what we do. That's a whole other genre of music. But the way Tom Cochrane and Red Rider approach it, we try to approach it in a very natural manner and deliver the songs people want to hear. If anything, we strip stuff down and I have impact and people seem to really enjoy what we do, when I do the songs acoustically and stripped down," he said.
Cochrane and his bandmates have gone the other way — more primitive and that's what people crave and that's why people are going back to vinyl, according to Cochrane.
"Arguably, does it sound better? Yeah, I think it does but marginally I think there's some pretty good converters with the digital stuff."
Cochrane said he was talking to a friend the other day about how today's kids never lived through the days when someone bought an album, as a body of work.
"To them, songs are separate entities and these records were kind of a separate entity," he said, adding when you look at an album or body of work it comes out. "And I still think of it that way."
"I really do think this younger generation, not only millennial but pre-millennials, don't look at it that way and it's ultra-disposal," he added.
With that said, Cochrane noted, when he performs live he's always amazed at how many kids and young adults come out to the shows and sing along to the songs. "Good music does stand the test of time," he said.
A milestone for Cochrane coming up this fall is the release of the 25th anniversary of, "Mad, Mad World," which will be re-released near the end of October with a tour to follow.
"We're going to play the record in its entirety," he said. But of course hits such as "Lunatic Fringe," "Human Race," White Hot," "Boy Inside the Man," "Big League," and "Good Times" won't be left out of the mix.
Cochrane said preparing for an anniversary album tour is time intensive and it needs to be done right.
"From that point, it's work I suppose, but when it's a labour of love, it's never work," he noted.
According to Cochrane, a new record is in the works but chances are it won't come out until the middle of next year.
"Closer towards the summer or maybe the fall of next year," he said, adding the album will be more of an off-the-floor effort with an attempt to keep overdubs to a bare minimum.
Cochrane also wanted to give a tip of the hat to a "wonderful Canadian" legend Gord Downie from The Tragically Hip, who was recently diagnosed with terminal cancer.
"I mean, those guys going out, I think it's great they're going out," he said.