Whoop-Up welcomes Kim Mitchell
Posted on August 18, 2016 by Sunny South News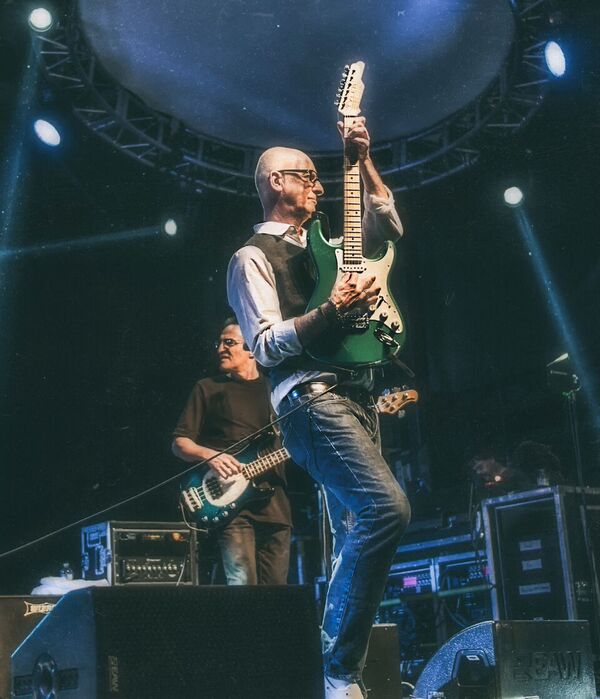 By Stan Ashbee
Canadian music fans, from coast-to-coast, have embraced Kim Mitchell's rock and roll anthems with a type of patriotism not seen with many artists. "Go For Soda," "Patio Lanterns," "I Am a Wild Party," and "Rock N Roll Duty" — are just a few in Mitchell's arsenal of greatest hits. Mitchell performs live at this year's Whoop-Up Days in Lethbridge at Exhibition Park on the Gas King Stage in Pioneer Park Aug. 25.
From his humble beginnings in the 1970s Canadian band Max Webster to the multi-award winning singer and songwriter branching out to a highly successful solo career onward through the 1980s to today — Kim Mitchell perseveres.
Mitchell has won three Juno Awards including "Most Promising Male Vocalist of the Year," "Album of the Year," and "Male Vocalist of the Year." Mitchell also worked as a host of a radio show on a Toronto, ON radio station in between touring and recording.
Back in January, Mitchell had a health scare, when he had a major heart attack.
"I was kind of like 15 minutes away from not being here. Most of my focus since then has been rehab, looking after myself, and changing my lifestyle a little bit — probably a lot. That's what I've been focusing on," said Mitchell, who currently lives in the west end of Toronto but admitted he would like to move some place small and mellower, since he has lived in the city since he was 17 years old. "I think I might go north a couple of hours," he noted.
Aside from taking care of himself, Mitchell also enjoys what he likes to call driver development training.
"I had a bit of a hot rod, a fast car, I would take to the track. That's a hobby of mine, not many people know about — becoming a better driver. Learning how to drive a car under different situations and certain extremes and avoidance. And, a little bit of speed in there," he explained.
According to Mitchell, it's all about balance, weight transfer, feeling your car on its limit and what to do when things kick out.
"I know police take this kind of training," he added.
From time to time these days he also said he likes to check out the odd live music show.
"I just went to see Bryan Adams here in Toronto — partly because he stole my keyboard player 10 years ago. I know those guys," he joked. Mitchell said he once toured with Adams during the fellow Canadian singer/songwriter's "Reckless" tour decades ago.
But, he doesn't go out much to see live performances due to the fact he doesn't really like crowds.
"I don't like being in crowds. Maybe it's because of what I've been through as a musician. During your heyday you got recognized a lot, so you'd be in situations where sometimes you'd go, I shouldn't be here anymore, I'm starting to feel a little overwhelmed and uncomfortable. And that's kind of stuck with me. I like crowds when I'm on stage but to go to a show, even seeing Bryan Adams, you get all hot and sweaty and part way through the show you're going I got it, I've had enough, I wanna go," Mitchell said.
After Mitchell explained his discomfort in crowds, the conversation turned to one of the recent final tour shows by The Tragically Hip in Calgary Aug. 3 — in the context of the show was crowded, hot and sweaty. He then shared a story about Hip frontman Gord Downie.
"Gord Downie and I wrote a song once together years ago. I'm not sure of the logistics of how I got him over to my apartment to do that but he came over to my apartment and we wrote this tune together. I still have it on a hard drive and he delivered a great set of lyrics," said Mitchell.
The funny part of the story, Mitchell explained is — Downie and Mitchell, at the end of the recording session, decided to go for a coffee.
"We're walking towards the coffee shop and Downie turns to me and goes, 'Can you lend me some money to buy a coffee? I don't have any money on me.' I just thought it was the funniest thing. Here's Gord Downie, five times as famous as I am and probably ten times the bank account and he's going, 'I don't have any money — Can you buy me a coffee?'" he joked.
As it turns out, Mitchell added, Downie parks his car and rides his bike all summer.
"So, he went out the door without any credit card or anything. So, of course you're going to buy him a coffee," said Mitchell.
Kim Mitchell is just one of the many performers at this year's Whoop-Up Days Family Festival in Lethbridge.