Brad Roberts: A new album on vinyl vaguely on his mind?
Posted on November 1, 2016 by Sunny South News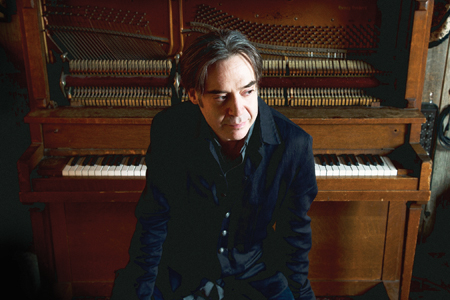 By Stan Ashbee
Sunny South News
Brad Roberts is kind of doing a different thing now. That's the word from one of Canada's great songwriters, baritone singers and frontman of Crash Test Dummies. Roberts is returning to southern Alberta for an intimate evening of songs and stories later this month.
"It's a Brad Roberts show, as opposed to a Crash Test Dummies show. It's myself and a guitar player named Stuart Cameron. Stuart, I think he is one of the greatest guitar players in Canada. Particularly on the acoustic guitar. His father was John Allan Cameron, a famous Canadian that brought Celtic guitar to the world," he said.
Part of what is new with the show is it's just Brad and Stuart on stage — as a duo. "The shows are very up front and personal. We're deliberately playing small rooms, doing intimate venues and there's a lot of chit-chat between songs because I'm a fairly chit-chatty guy," he joked.
Roberts said the show consists of all Crash Test Dummies material.
"It's not like I've forgotten my roots and I'm to play a bunch of new Brad Roberts songs. I play all kinds of old stuff I wrote for the Dummies. Maybe a cover or two," he explained.
According to Roberts, the duo has been playing a lot of songs from the Dummies' "God Shuffled His Feet" album but reinterpreted just for the guitar. "Of course, 'God Shuffled His Feet' was a really big sounding record, with a full band. Stuart manages, whether it's that material or any other material, to capture what's going on in the band — but make it all happen on the guitar. If there's a kick drum and a bass part that has a thing going in a particular juncture of a song, somehow he'll make that happen through the guitar. You'll hear him voice a piano part that Ellen might have played. He just seems to manage to pack all the goodies into one instrument. It's quite amazing," he said.
That's the other part to the live show, Roberts said — audience members can hear every detail because it's just the two multi-faceted musicians on stage. "He's taken these very complex arrangements and really boiled them down to one instrument in a unique way," he added.
Cameron and Roberts have been playing together for many years. "We kind of know what each other is going to do next. It's a beautiful relationship when you get to the point where you've been playing with somebody that long and you can almost anticipate what they're going to do next," Roberts said.
The Calgary date, Roberts said, is not part of one big tour. "Stuart and I both agree we don't want to go on endless tours anymore because it just gets too exhausting. But at the same time, unlike the rest of Crash Test Dummies who now have families and just aren't in a position to tour, Stuart and I do want to continue. My attitude with my agent is book me when you can, when it makes sense, and that goes for Canada, as well as the United States — where I have another booking agent," he said, adding at the end of the Canadian shows the duo will go down to Seattle and make their way down to California. "So the Canadian leg is actually part of a bigger leg that crosses into America."
Roberts said the first record Crash Test Dummies released in Canada did extremely well at home and had more of a cult following in the U.S.
"However, when we went to make our second record, it wasn't quite popular in Canada," he noted, adding reviews were not too kind about the new recording back in the early 1990s.
Ironically, what happened was, nobody would even play "Mmm" on the radio and it was stated at the time Crash Test Dummies were finished in Canada. "But in America, people reacted to 'Mmm' like Canadians had to 'Superman Song,' which was to say, they called in radio stations and said, 'who is that guy with the deep voice?'" he joked.
So, Roberts added, the Crash Test Dummies had another hit single on their hands at the size and scope of " Superman Song" — in a country with ten times the population as Canada — in America. "We sold millions of records there. We eventually broke and sold millions of that same record in Europe. Needless to say, not only have we got a great following in America and sold millions of records here."
"We're pretty lucky that way, " Roberts added.
Roberts said, as for the Canadian music scene, he doesn't follow it nowadays. "I barely listen to music anymore. People find that disappointing but I don't know, it's just not something I do much of," he said. But, he noted, he has been listening to classical and jazz music lately. "I really do enjoy putting on the radio."
Roberts said he likes listening to music that has nothing to do with popular music and nothing to do with the type of music he likes to write or has written. "It takes me to a completely different place." And, the music he listens to now, has nothing to do with whether it's Canadian or American, but the genre.
Songwriting, Roberts explained, is something he just stopped doing for a while. "I just didn't feel like I had a vital connection to it anymore. And that's been the case for a few years now. But I did, in the last six months, write a new lyric, which I think is one of the best things I have written in a long time. Between that lyric and the fact I've never made an album that was released on vinyl — it kind of makes me want to write one more record before I die. I'd like to be able to release an album on vinyl. It's never happened for me because when we first joined the music business and got signed to BMG, that was the very end of albums. It sounds like a silly thing to say because music is music. Why would it matter what the medium is? But there's just something so lovely about LPs and the cover art and the way they sound and turntables. I just love all that stuff," he said.
So, Roberts just may write some more songs in addition to the breakthrough lyric he recently had and the aspiration on his bucket list to release an album on vinyl is vaguely on his mind. "That's well into the future," he said.
Check out Brad Roberts live at The Gateway at SAIT in Calgary Nov. 14. Tickets available online at ticketmaster.ca.