Coalhurst fire chief on human resources and emergency equipment
Posted on October 12, 2022 by Sunny South News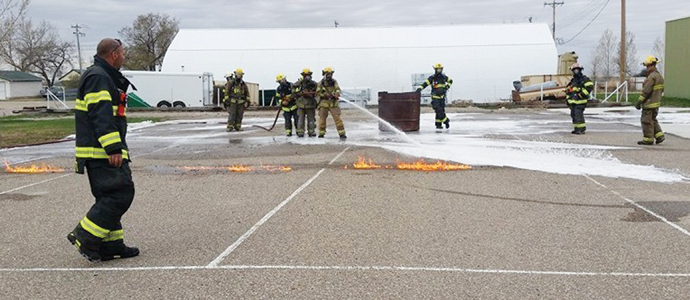 By Cal Braid
Sunny South News
Mitch Sorsdahl, fire chief for the Town of Coalhurst, has been a member of the department for 22 years. In May 2021, he was promoted when the previous chief, Matt Conte, moved on to become the chief of the Jasper Fire Department.
The Coalhurst department is comprised entirely of volunteers — 18 members and five recruits — `and Sorsdahl says he's been a long-time member for a variety of reasons. He got his start when his brother-in-law 'drafted' him. Sorsdahl said, "I've always been community-minded. It only takes one good call to make a difference, and it's rewarding."
Sorsdahl said the time, training, and availability requirements are significant and that recruits undergo a probationary period to determine their suitability. "We are all volunteers. Time commitments include two hours of practice every week, as well as one week on call from 8 p.m. to 6 a.m. Friday to Thursday approximately once every six weeks. There are (also) time requirements for additional training and courses, as well as community events such as Miner's Days, Canada Day, Remembrance Day, Halloween, and Christmas."
Their training sessions occur weekly. "We train every Wednesday night from 7 p.m. to around 9 p.m. We also train on other weeknights and weekends for larger events, usually in partnership with one or more of the other county departments."
"We currently respond to approximately 200-250 calls a year. A specific example wouldn't really cover the scope of all we do. The department provides fire protection, medical first response, rescue services, and is generally available to help out the residents of the town and surrounding area with whatever assistance they may need."
The types of calls they receive are wide-ranging. They do medical first response, which includes life-saving interventions and CPR for major injuries and trauma. The fire protection services target structure fires, vehicle fires, and wildland fires. Their rescue service covers motor vehicle collisions (MVCs), ice water rescue, injured persons, remote areas, confined spaces, and searching for lost or missing persons. Hazardous materials incidents require an initial response and clean-up. For minor incidents, they do initial response, scene size-up, evacuations, and initial containment. Larger incidents, like a train derailment, require support operations.
The department has various equipment for handling different situations. They have two frontline engines, one set up for urban area calls and the other for rural area calls, as well as one reserve engine. Their one rescue unit is equipped with various equipment for responding to MVCs, various rescue calls, ice water rescue, and medical calls. The unit also has support equipment for fire calls and extended events like rehabilitation and shelter equipment. They have a wildland unit for wildland and grass fires, with a second unit coming in 2023. A command truck is used for operational support of incidents, and they have one aerial drone that they use for search and rescue and remote viewing of hazard areas.
It all adds up to a bunch of toys for grown-ups that get used during training exercises and real-time emergency events. Sorsdahl quipped, "You don't get to cut stuff up and light stuff on fire anywhere except the fire department."