RCMP encouraging citizens to register for CAPTURE camera database
Posted on September 14, 2023 by Sunny South News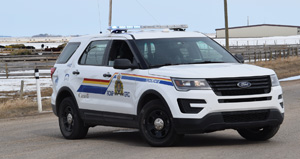 Sunny South News file photo.
By Erika Mathieu
Sunny South News
An RCMP delegation by the Coaldale and Picture Butte detachments during the Sept. 7 Lethbridge County council meeting, encouraged citizens with surveillance cameras on their property to opt into registering for the Alberta RCMP Rural Capture Program. CAPTURE stands for "community assisted policing through use of recorded evidence."
The RCMP-backed initiative was originally set to first be piloted in Coalhurst, but was launched across Alberta earlier this year.
In addition to presenting the quarterly update and report to council, Sgt. Dave Marintette also provided council with an update on Project CAPTURE.
"It is something (we) want to get out into the public and make them aware of it."
CAPTURE is an online program which allows anyone to go in, create an account and register that you have video cameras, either at the door or elsewhere on the property.
Marintette said registering, "does not give the RCMP or any police access to your cameras. We are not able to view your footage. There is no 'Big Brother' concerns going on there," and said the purpose is to indicate to police which properties have video surveillance, which could give police direction in who to approach if a crime is committed in the vicinity which may have been caught on camera.
"It serves as a tool for us to know there is evidence there that maybe (we) would never have known was there," and claimed, "it will be a big help in solving some of the rural crime, (such as) theft."
Marintette addressed concerns over the police having access to cameras.
"I just want to emphasize we don't. It doesn't give us any wireless ability to connect to your cameras or to see footage, it is just a database which shows who has cameras."
Marintette said at the top of the delegation although there was "nothing unusual or alarming" in the last quarter's statistics from the RCMP's perspective, he later said, "the one significant increase that we did see that I wanted to touch on, you'll see that sexual assaults are up by 300 per cent,  but it is important you look at the raw numbers," which were up from one in the previous quarter report, to four from April-June.
Mischief in the "other" category was also, "up 575 per cent from last year," representing instances of mischief which fall outside of property damage and encompasses a variety of offences.
Marintette said there were four instances in 2022, and 27 recorded as of June 30, 2023, but reiterated this 575 per cent increase in mischief is not indicative of that steep of an increase in property damage.
The report shows an increase in thefts over $5,000 from two to six files in Lethbridge County, several of which were attributed to "high value theft" of copper wire as well as personal property thefts during break and enters.
"Overall the county continues to be a very safe place and we want to stay on top of it especially as property crime continues to mount, hopefully with more use of Project CAPTURE, we can drive it down."