EV chargers now available in Picture Butte
Posted on September 20, 2023 by Sunny South News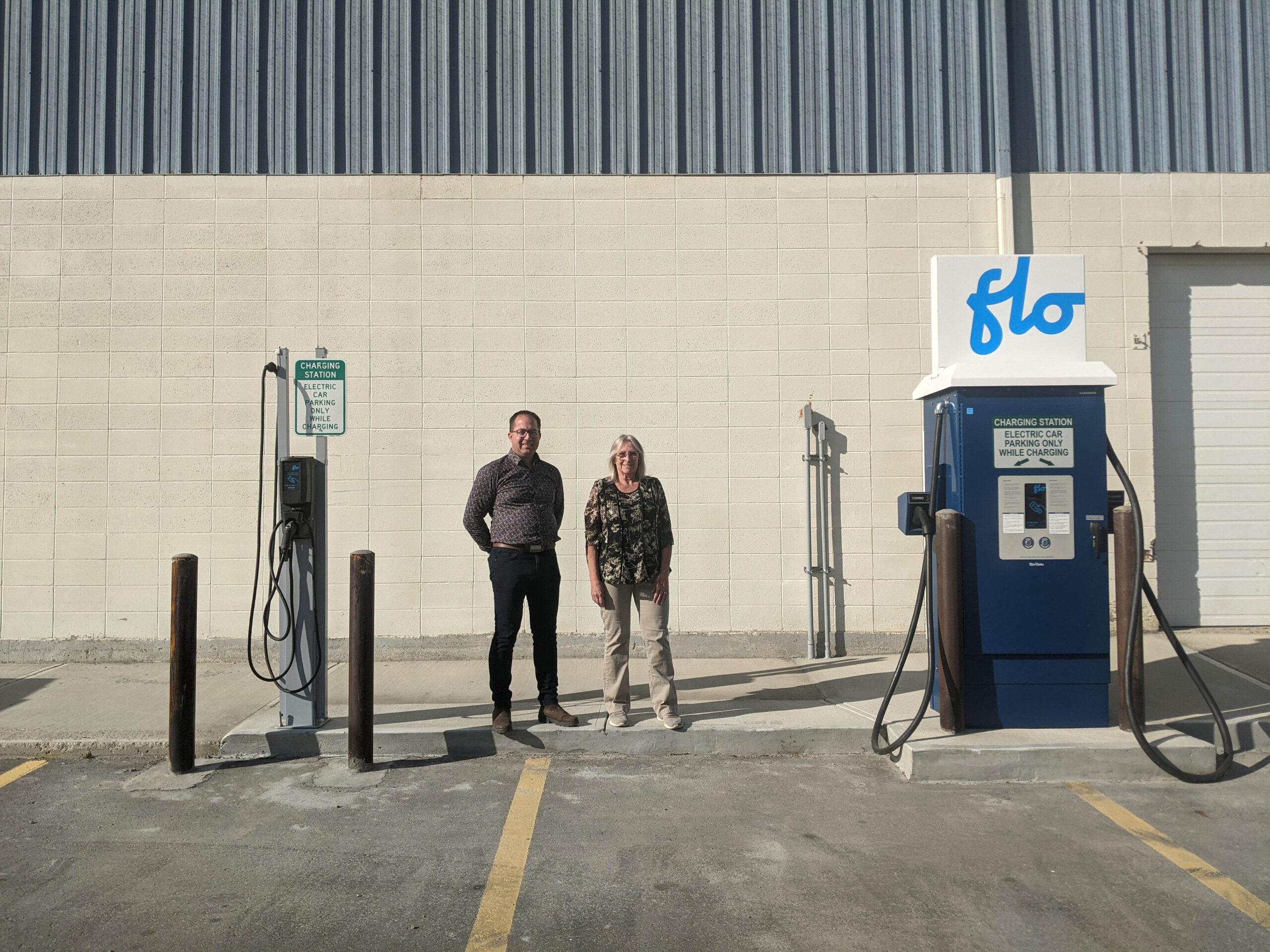 EV Charging stations: Deputy Mayor of Picture Butte, Henry de Kok (left) and Mayor Cathy Moore pose in beside the new EV charging station in Picture Butte.
By Erika Mathieu
Sunny South News
Two electric vehicle (EV) chargers are now available for use at the Cor Van Raay and Community Aquatic Centre's parking lot in Picture Butte.
The Town received funding through the Municipal Climate Change Action Centre (MCCAC) which covered the installation of the chargers. The $110,000 in funding allowed the Town to install one Level 2 and one Level 3 charger.
The grant subsidized the installation of EV chargers in various municipalities across the province. From January to August 2022, the MCCAC's Electric Vehicle Charging Program offered 100 per cent rebates to municipalities installing new public EV charging stations.
The MCCAC is a collective partnership between Alberta Municipalities, the Government of Alberta and Government of Canada. In addition to the EV Charging Program, the MCCAC has also supported the Climate Resilience Capacity Building Program, Alberta Municipal Solar Program, and Recreation Energy Conservation Program, among other funding initiatives.
Currently, both chargers are online and ready for use. According to the Town of Picture Butte, "the level three charger will allow electric car owners to charge their vehicle to 80 per cent in about 30 minutes," while the level two charger can take between four to 10 hours.
This is partially reflected in the usage fees, currently, according to plugshare.com the 6.24 kW (level two) charger has a $0.037 per minute usage rate, while the level three charger rate is currently set to $0.50 per minute. Usage rates are set by the Town of Picture Butte.
In a media release, Cathy Moore, Mayor of the Town of Picture Butte, said the Town is, "happy, excited and honoured to have these electric chargers in town."
Currently, the Town of Picture Butte is the only municipality within the boundaries of Lethbridge County outside of the City of Lethbridge to offer public EV charging stations. Moore said, "We hope that it attracts electric vehicle owners to our town and we hope they visit our thriving businesses. We are thankful for the Government of Alberta and Government of Canada for providing the funds through MCCAC so that we can add this service for people that come to Picture Butte."
South of Lethbridge, EV chargers can be found in Raymond, Stirling, Cardston, Magrath, and Milk River.
Additional visitor destinations such as Waterton Lakes National Park, and the provincial park Writing-on-Stone have also installed EV charging stations. A map with locations of public EV charging stations across Canada and the USA can be viewed at https://www.plugshare.com/map/free-ev-stations.