Lethbridge County swears in Reeve, Deputy Reeve
Posted on October 26, 2023 by Sunny South News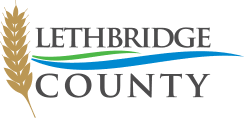 By Erika Mathieu
Sunny South News
The swearing in of Lethbridge County's Reeve and Deputy Reeve took place following the election of Tory Campbell as Reeve, and John Kuerbis as Deputy Reeve.
During the Oct. 19 Organizational Meeting, Council re-elected Tory Campbell, of Division 2, as County Reeve, and John Kuerbis of Division 4 as Deputy Reeve. Campbell and Kuerbis will serve in their respective roles until October 2024.
First elected to Council in 2021, John Kuerbis is now in his second consecutive year as Deputy Reeve.
Elected in 2017, Tory Campbell is serving his second term on Council, and third consecutive year as County Reeve.
Following the Oct. 19 Organizational Meeting, a County-issued communications release quoted Campbell saying, "it is an honour to once again be elected by my fellow Council members to serve as Reeve for another year," adding, "I am encouraged by what we have been able to achieve so far in this term by focusing on regional collaboration, responsible decision-making and strong governance."
Kuerbis said he is looking forward to, "once again serving in the role of Deputy Reeve to further the great work that has been done so far in my term on Council."
"Council has a clear vision for the future and we are grateful for the opportunity to work toward the betterment of our community," Kuerbis added.
During the meeting, committees, commissions, and boards which require a council representative were decided upon.
Councillors Klaas VanderVeen, Lorne Hickey, Eric Van Essen, and Deputy Reeve John Kuerbis will serve on the Agricultural Service Board alongside external representatives Logan Miller, Dan Chapman, and Ken Coles. Lorne Hickey, John Kuerbis, and Eric Van Essen will serve on the internal committee, and Mark Sayers, John Kuerbis, and Eric Van Essen will sit on the Emergency Advisory Committee.
A full list of selections for external boards, commissions, and committees is posted at https://lethcounty.ca/p/council-committees.