Coalhurst updates solar panel permitting
Posted on November 16, 2023 by Sunny South News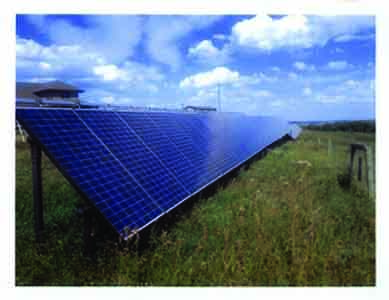 By Nikki Jamieson
Sunny South News
Increased interest in renewables has led the Town of Coalhurst into updating their regulations around solar energy.
A public hearing for Bylaw 445-23 was held during Coalhurst Town Council's regular Nov. 7 meeting.
Bylaw 445-23 would amend the Town's Land Use Bylaw by updating the Town's processes on the review and permitting of renewable energy systems. The amendment was prompted by the increased uptake in solar energy, specifically for roof or wall mounted arrays within the town.
Solar arrays for individual households typically supplement the household's on-site power use while allowing them to sell excess power into the power grid. The Town's LUB, which was adopted in 2012, first introduced 'Alternative energy, individual' as a discretionary use, and requires notification to adjacent landowners with the Municipal Subdivision and Development Authority (MSDA) deciding on the applications. Recently, the majority of the applications have been for the installation of roof-mounted solar panels. These applications have not been refused and received no comments or concerns raised by the adjacent landowners.
"This will certainly speed up the process for those applicants, making it much easier to make those applications as we've received a great number of them, and that (direction is) expected to continue," said Town CAO Shawn Patience.
First reading of the bylaw was given during council's Oct. 3 meeting. If passed, among other things, the bylaw would delete the discretionary use of 'Alternative energy system, individual' and add 'Solar energy system, individual – roof or wall mounted' as a permitted use to several zonings including residential, commercial and parks and recreation. In addition, the uses of 'Solar energy system, individual – roof or wall mounted', 'Solar energy system, individual – ground mounted' and 'Wind energy conversion system, individual' would be added as discretionary uses in several zonings.
The town received no feedback in regard to the bylaw, and it was circulated to Lethbridge County and Alberta Transportation, who responded with no concerns.
One resident, Blaine Pontaroll, who attended the public hearing asked if ground-mounted solar panels could be installed on large lots, as he had a one-acre lot, and this type of zoning wasn't included as a discretionary use for that type of array. Patience noted the bylaw was created to be consistent with other municipalities. Pontaroll requested it be included.
Following the public hearing, Patience heard back from the town planner in regard to ground-mounted solar arrays on large lot residential properties. Patience said she did not think it was appropriate to approve ground-mounted solar arrays for residential, and in large lots, the extra area tends to be set aside for septic fields.
Coun. Heather Caldwell inquired if a property owner could apply for a waiver to install ground-mounted solar arrays, to which Patience replied in the negative.
"If it's council's desire to have ground mounted solar as a discretionary use within the large lot district, so that MSD must rule on those applications, then we would have to amend the proposed bylaw," said Patience.
Council passed second reading of Bylaw 445-23.
Council passed a motion to amend Bylaw 445-23, to include that Schedule 2, Land Use Districts, be amended to add 'Solar energy system, individual – ground mounted' as a discretionary use to the Commercial – C, Business Industrial – BI, Parks and Recreational – PR, Public Institutional – PI, and Transitional – TR Land Use Districts, and be additionally amended to include Large Lot Residential – LLR to Section 2, Schedule 2.
Council passed third and final reading of Bylaw 445-23, as amended.
Mayor Lyndsay Montina was absent from the meeting.