Coaldale curler receives first-ever scholarship award
Posted on December 8, 2015 by Sunny South News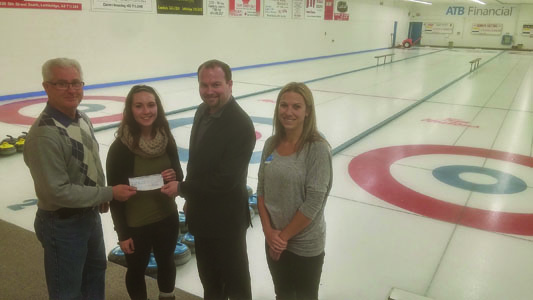 By Stan Ashbee
Sunny South News
Even though this season is her first year on the ice curling, Lindey Felske from Coaldale, remembers spending many evenings at the rink watching her parents hurry hard. She recently joined a mixed team with her parents and her uncle. Felske is this year's recipient of the inaugural Canadian Masters/ATB Financial Curling and School Scholarship.
"It's a scholarship the Canadian Masters Curling Championship set up right after we finished the Canadian championship in 2014. It's tied in with ATB Financial and it is really set up to support a club curler going to university and does an awful lot of volunteering within the towns or cities they are members at," said Coaldale town councillor and one of the Canadian Masters Curling Championship in Coaldale organizers Roger Hohm.
Hohm noted Felske seems to fit these qualifications extremely well and she's been involved in a lot of volunteering at health centres and different things around town.
"She's a member of the mixed curling league in Coaldale and is now starting her university career," Hohm said, adding the Canadian Masters and ATB Financial presented her with the $1,000 scholarship last month at the Coaldale Granite Club curling rink.
According to Hohm, when the Masters was finished the organizers set aside $10,000 to be handed out in scholarship form.
"As we have other promotional activities, different things, we'll try and continue to add to that scholarship fund. To make it last for as many years as we possibly can," said Hohm.
Applications for the scholarship have been put out to all the curling clubs in southern Alberta and the scholarship is open to any curler interested in putting their name forward.
"You nominate yourself. And then there's two members of the Masters committee, myself is one of them, and one member from ATB Financial, the manager Daryl Wilson in Coaldale — who reviews the applicants and come forward with the one single applicant each year," Hohm explained, adding the applicant doesn't have to be from the Town of Coaldale. "We're very happy this year the first one we're going to present happens to be a Coaldale resident," he said.
Wilson added ATB Financial was the title sponsor of the Masters curling championship in Coaldale and partnered with the curling club to give the scholarship on an annual basis. "One component we really found to be important was community involvement. We looked at the candidate — how they volunteered in the community and helped out in the community. That was really something that really stood out with Lindey. We thought she was a great candidate for this," Wilson said.
ATB Financial in Coaldale Assistant Branch Manager Jennifer MacKay was also on hand during the scholarship presentation last month.
Felske graduated from Kate Andrews High School (KAHS) in 2014 and started her studies at the University of Lethbridge in the fall of 2014. While in Coaldale, Felske volunteered at the Coaldale Public Library and the Coaldale Health Centre, helped young students at the local dance studio, and attended We Day in Calgary with KAHS.