Tier 3 Bantam Cobras win first CAHL league title
Posted on April 11, 2017 by Sunny South News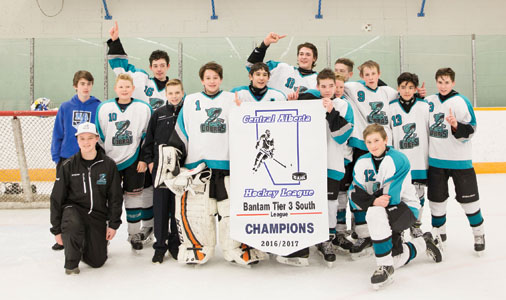 According to Nobleford Mayor Don McDowell, the Coaldale Tier 3 Bantam Cobras hockey team took to the road Mar. 24 to try and win their first CAHL league title. Their opponent was the winner of the regular season, the Duchess Storm.
Despite again having a depleted roster, the Cobras put together a great defensive and offensive show and defeated the Storm by a 5-2 count.
Ty Young was again exceptional in net. The offense was led by Ragan Roth and Anthony Mack, as each had two goals and one assist. Will Neudorf also had a goal and an assist. The goal scorers for Duchess were Ryan Drake and Connor Douglas.
The next day saw the same two teams back on the ice, this time at the Coaldale Arena. Both teams showed the effects of having played the previous day. The game was tied 1-1 after regulation time on goals by the Cobras' Dylan Granson and Connor Douglas of the Storm. The first overtime solved nothing. They then went to a four-on-four format for a second overtime and at 2:25 Aiden Robertson batted in a loose puck to win it for the Cobras.
This game was the culmination of two years of hard work from the boys and some outstanding coaching from Kevin Fujita and Yutaka (Yutie) Urano and the rest of the coaching staff — Todd Lang, Blayne Janssens, Chris Gallagher and Trevor Mostyn.
This group of boys went from a middle of the pack Tier 6 team in 2015-2016 to become Tier 3 Champions.