Copperheads' Game Five is do or die situation on Wednesday
Posted on February 18, 2020 by Sunny South News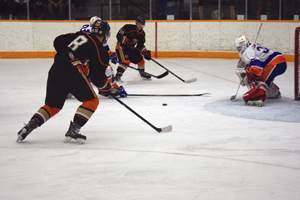 Sunny South photo by Nikki Jamieson
It been four days in a row for the Copperheads in the first round of playoffs against the High River Flyers.
Outcome after game four in the best of five affair is tied two games a piece. On Wednesday the 19th, the Copperheads with home advantage hosting game five "do or die" situation. A touch earlier ice time of 8:00 p.m. is on the agenda for the teams at the Snake Pit.
To date, teams have only won games only on home ice.
First two games the score ended up 5-2. Third game in Coaldale the Copperheads won 2-1 and Sunday in High River the teams went to overtime with the Flyers winning 4-3.
Goaltender Brett Vanderveer has been between the pipes for the Snakes the full four games. Playoff goals have come from Mason Sande racking up three; Jayden Bexte two and singles from Brandyn Howg, Ethan Klemen, Tyler Strath, Clay Nevil, James Halverson, Tyler Anderson and Ty Abbott.
Copperheads encourage fans to come out Wednesday to what could be the last home game for the Snakes.
You'll witness passion flowing from both organizations hoping for that victory to move them forward to play Okotoks Bisons in the south semi-finals of the Heritage Junior B League.