THIS ARTICLE IS SPONSORED CONTENT
Livestream your stories: the coolest summer opportunity for new and emerging content creators
SPONSORED CONTENT
Co-creators wanted for STORYHIVE's Summer Crew 2.0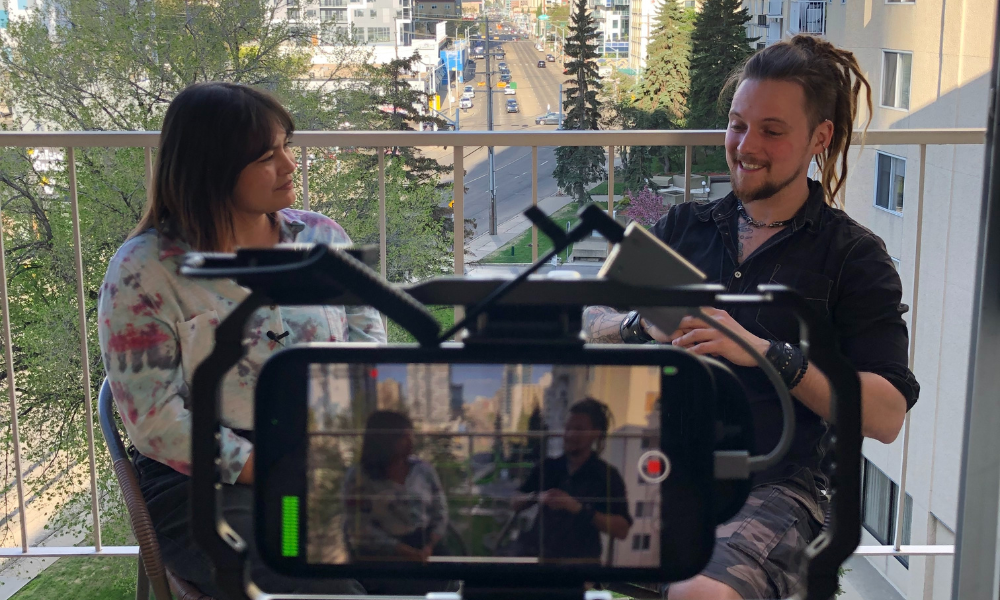 It's time to go live! Bring your community's unique stories to life this summer by livestreaming on Optik TV and STORYHIVE's online platforms.
If you're a new or emerging content creator, now is the time for your crew of two to kickstart your online presence and livestream your community. Through the 2023 TELUS STORYHIVE Summer Crew 2.0 program, you could be the face of your own show, hosting and interviewing, and driving your online presence. No experience is required.
If you and a friend/co-creator live in the Lethbridge County region, or any other eligible Alberta or B.C. community, apply together for the chance to be one of 14 crews from different regions to participate in an intensive 14-week program. You can also apply individually and STORYHIVE will pair you up.
If you're selected, your crew will receive microgrants, equipment and training to develop your interview skills, and gain real-world experience with livestreaming technology.
New this year, STORYHIVE is supplying teams with robust video editing software and access to a portal from which creators can edit their content.
This concentrated creative process gives you the chance to showcase your passion for your community through storytelling and reporting, just as it did for STORYHIVE 2022 Summer Crew alumni, Edmonton co-creators and partners, Kimiko Pocha and Keil Hunka.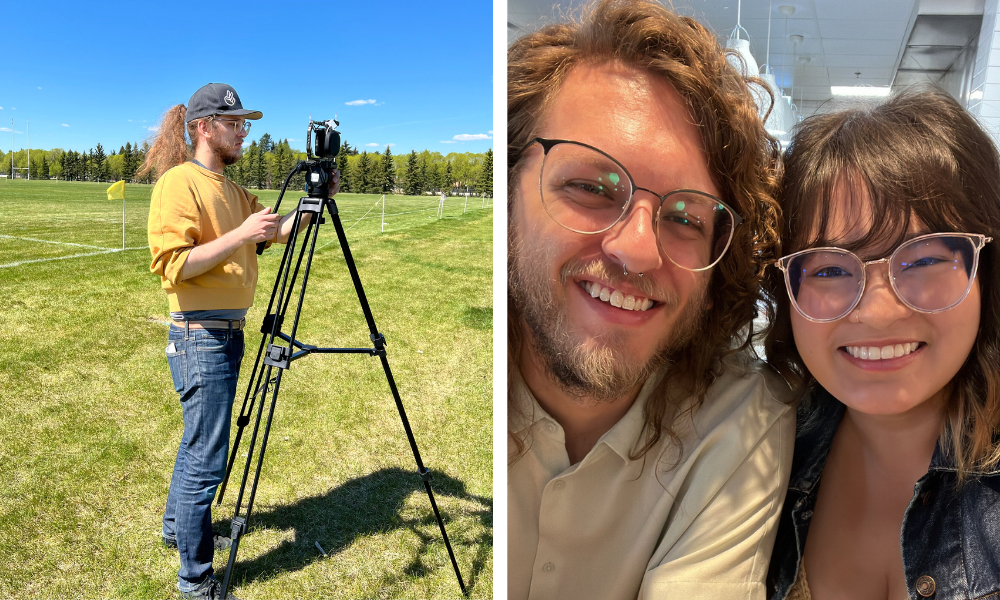 The program enabled them to create their content and build livestream coverage for "Keys to the City," highlighting Edmonton's vibrant and diverse communities, through the lens of mostly small business owners.
With Pocha in front of the camera, Hunka behind, the two created 44 segments, averaging 20 to 60 minutes across 13 episodes. The duo uncovered the origin of people's businesses, their background, products and services.
"It was like making an intimate bubble to create a connection," recalls Pocha. "We built a lot of really good community relationships with the people we interviewed, and everyone was so excited to take part and have their story told."
With a passion for representation, Pocha (she), a biracial queer person, Filipino/Canadian, and Hunka (they), a trans person, both wanted to interview a cast as diverse as possible, including Asian, indigenous, black, queer, and white folks.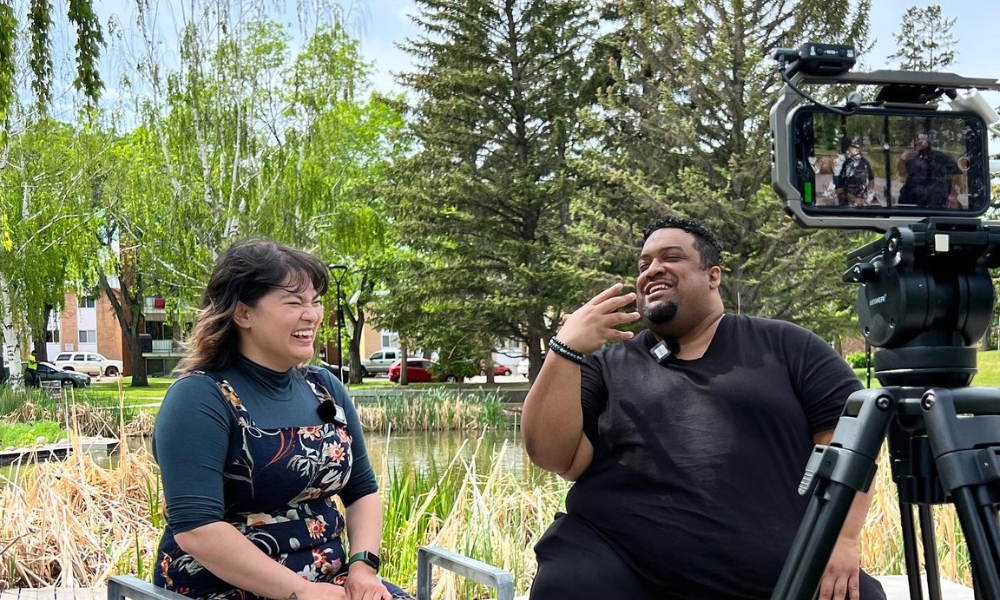 "We felt we had an obligation and responsibility to shine a light on the diverse side of Edmonton that we know exists," says Pocha. "It's such a privilege to showcase those stories, something you rarely see from traditional media."
STORYHIVE gives underrepresented communities an opportunity to share their stories on the Canadian Broadcasting System, and distribution on TELUS Optik TV, Stream+ and STORYHIVE's online platforms.
"There's a huge Filipino community here, so for me it was really special to interview Yelo'd Ice Cream & Bake Shoppe and show off some of my heritage, and the way it can intersect with where I'm living now," says Pocha.
"Our experience working for STORYHIVE was awesome! They gave us extensive training, which was important because this program is aimed at creators like me who don't have a lot of experience. I'd only made short-form content, like TikTok and Instagram, so I was a bit nervous, but they gave us all the tools we needed to tell these stories. It made me feel confident in the skills I picked up while I was learning."
"Plus, the STORYHIVE team was very supportive the entire time. T Bannister helped us the most technologically, and also Andrea Beça, who reviewed our videos and provided helpful feedback."
"One of the biggest learning experiences was having weekly meetings with our management and other crews," says Pocha. "Hearing everybody's experience and being able to watch their content was very helpful."
Reflecting on how her younger self would have felt to see similar content, she says: "It would have meant the world to see a host like myself, a minority, someone biracial, somebody who isn't the stereotypical body type in news coverage and on TV."
Pocha encourages content creators to "just do it" and apply to STORYHIVE Summer Crew. "It's such a phenomenal program, with so much support from the team, and such a safe way to enter the industry."
Your city. Your coverage. No experience necessary to apply. Intake is open February 15. Apply at storyhive.com/summercrew by March 24, 2023.
Since 2013, STORYHIVE has been dedicated to supporting and amplifying local stories and voices. It supports and accelerates local talent, creativity and development through production funding, training, mentorship and distribution, to help B.C. and Alberta content creators share the stories that are important to them and their communities.