Picture Butte Food Grains Project ready for 2018
Posted on May 22, 2018 by Sunny South News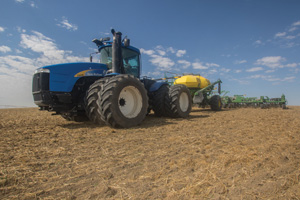 Sunny South Photo submitted by Tony Kok
By Tony Kok
Picture Butte Food Grains
The Picture Butte Food Grains is excited to obtain land again for the 2018 season.
We are renting land from Lew Dooper whose land is located seven miles north of Picture Butte on Hwy # 843. Seeding was completed on wednesday, May 16, by Kolk Farms and cultivating done by Ken VanRaay.
This is Picture Butte and area's 19th growing season and we have been very thankful for the support over the years from local people who donate their time, finances, equipment and services.
The Food Grains does excellent work in food and famine relief but also in teaching farmers in underdeveloped countries new farming techniques, and providing tools to get better production out of their land.
Right now they have a project in Ethiopia where over 50,000 farm men and women are being trained in soil erosion and conservation projects with excellent results.
For Rempel Mulaire from CFGB and the members of her team, one of the highlights so far has been watching farmers discover just how productive their small plots can be when properly managed.
Over the past years you could always sponsor an acre for $200, but have decided to go with a closer reflection of the costs of an acre which is $400. We do get some donations but most of our inputs are paid for such as rent, chemicals, fertilizer etc. Some of our inputs are donated such as crop insurance, seed etc.
For more info, photos and video follow us on Facebook under "Picture Butte Food Grains Bank".
We look forward to your support again this year! Donations can be dropped off at BDO or Ag Employ.