Canola industry, politicians slam China canola ban
Posted on March 12, 2019 by Sunny South News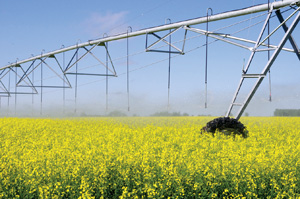 Sunny South File Photo
By Nikki Jamieson
Sunny South News
China's recent ban on some canola imports has caused immense concern for the canola industry.
Citing pest concerns, China's Foreign Ministry announced on March 6 that they will be blocking some imports of agriculture canola product, and revoked the export permits of some of Canada's biggest processors, including Richardson International Ltd, a Winnipeg based company that exports 30 per cent of Alberta's canola.
Canada exports about 40 per cent of its canola to China, and according to Statistics Canada, canola seed exports in 2018 to China were worth $2.8 billion.
"The canola value chain is concerned about how Chinese restrictions impact our growers and the entire industry," says Jim Everson, president of the Canola Council, in a statement. "It's important to resolve the issue quickly so we can resume stable trade that benefits both countries."
Imports of Canadian canola to China will also go through more rigorous inspections. The Canadian Food Inspection Agency has conducted several investigations since China issued the notices of non-compliance, but haven't found any pests or bacteria in their investigations to raise concern.
According to the Canola Council, Canada's Agriculture and Agri-Food Minister, Marie-Claude Bibeau has indicated that China's decision to suspend canola seed exports from one company remains a top priority for the federal government, and plant health experts are working with China to resolve their concerns.
"If China's concern is with specific quality issues, we should be able to resolve it quickly," says Everson. "We have full confidence in the quality of Canadian canola exports and our quality assurance systems."
"Canola is an incredibly important crop to the economy of Lethbridge County and the region.We are concerned that the decision not to accept canola will have a very negative impact on our producers and economy. We hope for a quick resolution that will allow canola shipments to start up again," said Lorne Hickey, reeve for Lethbridge County.
The ban comes at a time of tension between the two countries, following the arrest of Meng Wanzhou, the CFO for Chinese telecom Huawei, in December 2018. Canada has been moving forward with her extradition hearing and process at the request of the U.S. over fraud charges, as they allege she had mislead banks over Huawei's dealings with Iran. The canola ban has been seen as another retaliation against Canada for her arrest.
Other apparent methods include detaining two Canadians on suspicion of harming national security, and sentencing a third to death on drug-related charges.
Lethbridge MP Rachael Harder said she was "deeply concerned about the impact the baseless actions" would have on the agriculture sector, and slammed Prime Minister Justin Trudeau's mishandling of the country's relationship with China, which has severely deteriorated.
"Canadian farmers produce the highest quality canola in the world and southern Alberta is home to many producers within the industry," said Harder in a statement.
"This decision was not not made because of Canada's canola product, but because of Justin Trudeau's ongoing failure to manage Canada's relationship with China. Canadian agricultural producers are paying for Justin Trudeau's mistakes on the world stage."
Canola products make up 70 per cent of Alberta's agri-food exports to China. Alberta Premier Rachel Notley has called on the Prime Minister to quickly resolve the issue, and "get back on the job and fight for our canola farmers and the jobs they support".
"We are calling on Ottawa to stop its navel-gazing about its internal controversies and fight back," said Notley in a statement.
"Alberta farmers and Alberta workers stand to lose hundreds of millions of dollars and up to 3,000 jobs if this is not resolved. We need certainty – and now, more than ever, we need Ottawa to be in Canada's corner."