Bountiful harvest for Picture Butte Foodgrains project
Posted on September 1, 2020 by Sunny South News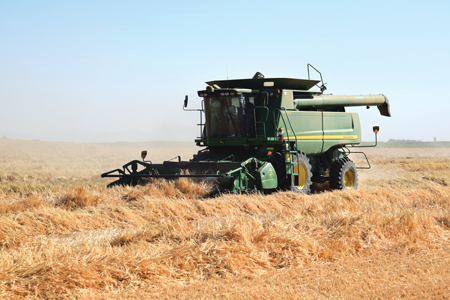 SSN FILE PHOTO
By Nikki Jamieson
Sunny South News
Sunny skies and eager volunteers were readily available as the Picture Butte and Area Growing Project held their harvest last Friday.
"It's looking really good, a really nice crop today," said Tony Kok, board member for the growing project, during the harvest. "The weather is perfect and we're hoping for some more combines as they come along."
While in previous years, they waited for a long line of combines to all arrive before the harvest started, this year, volunteers with their combines and other machinery arrived throughout the morning to help harvest the 160 acres of barley the growing project had planted in the spring. While the event was kept simpler this year due to the pandemic, with no BBQ held, although combine drivers got bagged lunches, Kok noted the pandemic didn't affect their operation much, and the straw barley had been pre-sold to local feedlots and farmers, who bought it at a premium price.
The wet weather earlier in the growing season along with the dry sunny weather later on had been good news for the crop. Last year, the growing project's crop was hailed on twice, sustaining significant damage the second time in late summer before harvest could go. However, Kok said they were able to raise $100,000 for the Canadian Foodgrains Bank.
"We had a really good start to our project (this year), and the crop came up really nice with the appropriate rains, and now just finished off with a little bit of irrigation, and it looks like a really nice crop," said Kok. "Last year, we had the hail, but we still did pretty good, and we still managed to send $100,000 last year, with all of the insurance and buyers helping out."
Kok thanked everyone who donated to the project, provided equipment, provided and helped seed or cultivate the crop, rolled and sprayed the land, irrigated the land and help harvest.
Since 1983, growing projects support the Canadian Foodgrains Bank by growing and harvesting a crop, selling it on the Canadian market and donating the proceeds to the foodgrains bank, which is then used to help combat world hunger and teach more sustainable farming methods.