Lethbridge RDC celebrates Fairfield Poplar Tree
Posted on September 26, 2023 by Sunny South News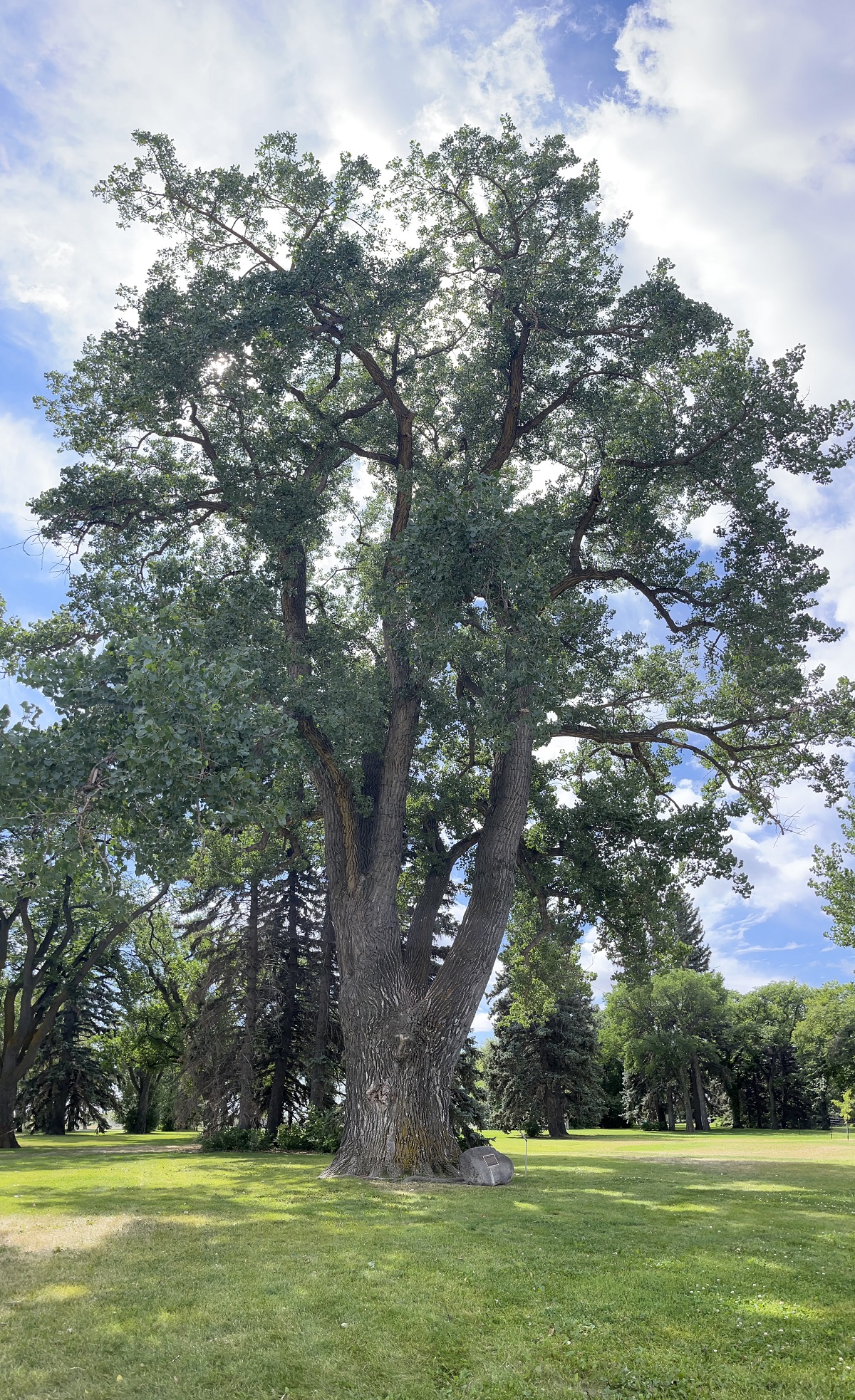 Photo courtesy of the Helen Schuler Nature Centre
By Erika Mathieu
Sunny South News
For National Forest Week in September Lethbridge Research and Development Centre (RDC) celebrated the beauty and important role trees play in global ecosystems with a tribute to the site's Fairfield Poplar Tree as part of National Tree Day on Sept. 20.
Agriculture and Agri-Food Canada's Lethbridge Research and Development Centre (RDC) has long celebrated the beauty and importance of trees. Did you know the centre's grounds are home to a provincial heritage tree – the "Fairfield Poplar"?
The Fairfield Poplar, is one of the Province's heritage trees. When the Lethbridge RDC opened its doors for the first time in 1906, tree-planting was a top priority for the area. In 1907, over 550 trees, including ornamental and apple trees were planted, in addition to various other shrubs. Despite no spring crops being sown in 1907, Site Superintendent, William Fairfield, was pleased to report on the progress made on the sites arboretum, which had come to include over 280 different species of trees.
The site's Fairfield Popular holds significance for the region as it was supposedly planted by Fairfield himself near the residence of the Superintendent and is among the original trees planted at the Lethbridge RDC, over one hundred years ago. A commemorative plaque now accompanies the large and impressive tree upon which is inscribed:
"The grandfather of all, this plains Cottonwood poplar is one of the oldest and largest of its kind in southern Alberta. This tree is recognized as a living legacy to the optimism and forethought of our pioneer ancestors, particularly William Harmon Fairfield, first superintendent of the Dominion Experimental Station, circa 1900. Travelling six miles to the river valley to harvest trees using horse and wagon is an effort applauded and appreciated by many generations."
The Lethbridge RDC's early and continued land stewardship and role nurturing and planting trees across the Province's southern regions made a significant impact on the landscape, both visual and ecological, of Southern Alberta.
In honour of the tree's 100th birthday, the Lethbridge RDC, in acknowledgement of the tree's significance to the heritage and history of the research centre planted a cloned sapling of the original tree at the centre. The clone is now referred to as the "Fairfield Junior", and sits beside its ancestor.