Canada's unsung hero of television
Posted on March 10, 2015 by Sunny South News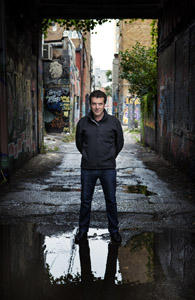 By Stan Ashbee
Sunny South News
Rick Mercer's weekly report, as seen on the CBC for its 12th season — is as Canadian as hockey, maple syrup and a large double-double. Enough with the sterotypes eh?
Mercer, is one of Canada's top political satirists and has been dubbed, "Canada's unofficial opposition." His show presents topical satire, funny takes on the week's top stories and his Canada-wide adventures. He is also appearing at the Funny Bone Comedy Night fundraiser in southern Alberta in April with Canadian songstress Jann Arden.
"It's something we've talked about a long time," said Mercer.
"Jann and I always have fun when we get together. I'm not worried about that in the least. She's one of the funniest women I know. I'm just looking forward to it," he added.
In 2014, Mercer was made an Officer of the Order of Canada and has received a Queen's Diamond Jubilee Medal. He has also received many awards for his charity work over the years. One cause Mercer is passionate about is the Spread the Net charity, which raises funds to stop the spread of malaria by providing mosquito nets for African children. Each season, the finale of "The Rick Mercer Report" is the Spread the Net Student Challenge.
When not cracking up Canadians on his television show, Mercer noted, he tours the country with the show, "A Nation Worth Ranting About."
"I'm pretty fortunate, I have a pretty unique perspective just because I haven't unpacked for 10 years. I think Canadians are interested in the rest of the country. It's just one of the problems in Canada is, it's such a bloody big country and it's expensive to tour around, so very few people get to do it the way I do," said Mercer.
Canadian politics are always at the forefront on "The Rick Mercer Report" but as for provincial politics, Mercer said, he doesn't like to comment on provincial politics in regards to a province he doesn't live in or is attached to.
I asked the satirist about the ever-changing political landscape that is Alberta — even though the Conservatives have been in power for decades. "It's funny you call it the ever-changing political landscape, because of course from an outsider's perspective, it looks like it never changes," he joked.
Obviously, Mercer said, he understands Alberta politics enough to know that from premier to premier it changes dramatically and from floor-crossing to floor-crossing it changes dramatically.
"For example, I don't live in Newfoundland but I'm keenly aware of what's happening in Newfoundland all the time. I just don't think that's appropriate and so it's not something that I've ever spent that much time talking about," he explained.
Mercer got his start on television as one of the creators, performers and writers of "This Hour Has 22 Minutes." His latest book, "A Nation Worth Ranting About" was published in 2012 and was a national best-seller.
"My books have essentially been collections of the rants and every now and then I'll print up the rants, as they appeared on the show or I'll either update a book or I come out with a new one. Perhaps, in another year or so, I think maybe I'll have another project," said Mercer, who agreed to a three-year contract with the CBC last year.
"I think I'm really fortunate. I think because of being on TV as long as I have and because 'The Mercer Report' has been on as long as I have, I still have a show that, by and large, is appointment viewing. We do over a million viewers on Tuesday night and then when we rerun we'll pick up another 500,000 or 600,000 viewers. That's tremendous for a Canadian show in this country and I don't know if we'll see that again. The CBC had a lot of success with 'Book of Negroes' this year, I know that, they had tremendous numbers — 1.8 million viewers at one point, I think. You're seeing fewer and fewer examples of that and that's not because of the quality of the programming, it's just because of obviously the way we consume media now," said Mercer.
As a kid, Mercer said, it was a huge status symbol to be a teenager and have a television in the bedroom.
"I don't know if there's a television in a teenager's room anywhere in Canada right now because they all have iPads and it's just changed so much, very quickly."
He added everyone has to adapt to that. "Luckily, I'm glad that I'm still on conventional television because that's where I want to be," he joked.