Smith brings arts and culture to Coaldale
Posted on January 13, 2015 by Sunny South News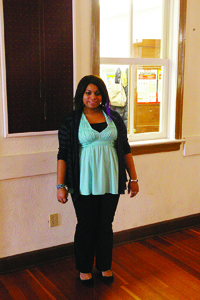 Since late fall 2014, Alysha Smith has been the Town of Coaldale's official Arts and Culture Co-ordinator. Smith works with the town's community services department and her office is located at the Gem of the West Museum. "My job has many different rolls and because this is a new position some I have already taken on and others will begin later. I assist the Gem with day-to-day museum duties, tours and programming. I also play an assistant or advisory role for their collections and exhibit management. For the town, I get to focus on the fun stuff such as planning events, working on integrating more arts and culture-related functions and events into Coaldale and creating exciting partnerships within the community," noted Smith, who received a bachelor of arts in music with a minor in history from the University of Lethbridge in 2013. In September of 2014, Smith added she finished her masters in history from the University of York in England. According to Smith, she was previously an intern and volunteer at the Galt Museum in Lethbridge, where she was involved in family programming and an oral history project. She was also chosen to create a panel and display, which was part of an exhibit at the Galt entitled, "Stories of Women and Girls: Insights by Undergraduate Scholars."
While in England, Smith said she volunteered for a web-based historical project for the York Archaeological Trust and helped out with the organization's family events.
"I hope to bring some new and exciting events, programs, and changes to Coaldale arts and culture. There is so much potential here and I think the ideas that are already formulating will really add a new dimension to the museum and the town," said Smith.
Smith currently lives in Lethbridge but grew up in Calgary. She moved to Lethbridge in 2009 to attend university and Smith believes Coaldale is a lovely place and she enjoys working in such a tight-knit community. "I meet so many people on a daily basis and it's been wonderful getting to know so many community members," she said.
Small towns, Smith said, have a very unique type of culture. "Most around southern Alberta have many families who have lived within the same community for generations and that really adds a whole different dynamic to the culture of the town. I think small towns can run the risk of a disconnect with arts and culture, due to their size and sometimes lack of opportunity or resources but I feel Coaldale is lucky to be a small town, which has such a diverse community and growing arts centre," said Smith.
Locally, she added, there is so much to work with and so many ways to increase the arts and culture presence in Coaldale. Smith said, as for the future, she is working towards planning new and exciting programming and events at the museum this year. "I'm really excited to see what we can do with the space and provide some really great interactive and historic learning opportunities and different arts and entertainment options. I believe programming will be key, and I'm looking into the types of programs we can offer for children and adults. I'll be working towards creating more interactive tours and school tours, which incorporate the current Alberta curriculum, so students can see and interact with history and relate it back to what they have been learning in the classroom," said Smith. Smith added she is also working on exciting opportunities for Multiculturalism Day and Canada Day celebrations for the town, with the museum included in the events.
"I'm really looking forward to the coming opportunities. I enjoy what I do and can't wait to plan and share all of the exciting new things with the community," said Smith.