Junior ATB now open at St. Catherine's
Posted on February 3, 2015 by Sunny South News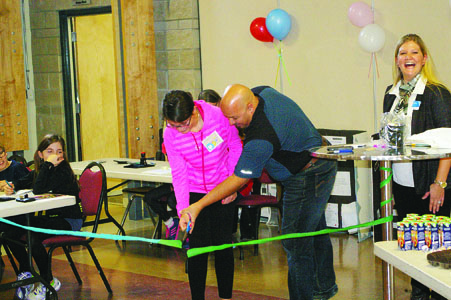 By Stan Ashbee
Sunny South News
In everybody's favourite board game Monopoly kids always want to be the banker.
In real life, ATB Financial in Picture Butte offers students a chance to be a banker with Junior ATB.
A brand new Junior ATB had its grand opening last Tuesday afternoon at St. Catherine's School in Picture Butte.
"This is their first year participating in the program and I've had a phenomenal response from parents, teachers and students," said Picture Butte ATB Financial Branch Manager Katie Forster, prior to the official grand opening ceremony of the student-operated branch.
Junior ATB job positions include deposit day roles with a teller, back cash and greeter. Board of Directors positions include a board chair person and Chief Executive Officer (CEO), vice-chairperson, secretary, treasurer, marketing manager, community officer and chief compliance officer. Grade 6 student Camerynn Serfas is the Junior ATB's CEO. The grand opening event featured cookies, juice, lollipops for the kids and there was also a guess the candy in the jar contest, which was on location at the school for a few weeks prior to the event and the announcement of the winners.
Forster also shared a letter she received for the Junior ATBers from the ATB Financial executive vice-president in Edmonton, unable to attend the celebration.
"He wanted to pass along his congratulations to our CEO," added Forster.
With already one Junior ATB branch in Nobleford, Forster said, Picture Butte ATB Financial has one year under their belt.
"We were nervous last year. We're nervous but optimistic and excited this year too," said Forster, adding the scheduled grand opening for this year's Junior ATB at Noble Central School is Feb. 12. The branches are open until late May or early June.
Forster added Coalhurst is opening a Junior ATB Feb. 13.
Representatives from the Coalhurst branch were in attendance at the St. Catherine's grand opening.
"I'm so excited because we are going to watch the children grow and learn the banking basics," said Forster.
Junior ATB is for students to save money.
"We do recommend spending too because you want to save that money but you also want to spend it because you earned it. So, if you're saving for a bike, you want to go ahead and spend that too," said Forster, adding the branch will be open for deposits every other week.
"The other part too is watching the students be involved together. Our CEO had a board meeting, she sat there and introduced everybody and they talked about ideas," said Forster.
During the preparations for the Junior ATB branch, the student CEO noted, she was responsible for making sure everybody was nice to one another and doing what they were supposed to be doing.
"I think it's a really good idea and it's a really good experience," said Serfas.
Junior ATBers, according to ATB Financial online, go through applications and interviews to land their "jobs."
Once "hired," they learn proper banking procedures with real money, and how to manage their classmate "customer" accounts.
Junior ATB was initiated in Alberta's schools in 2009, and currently operates in dozens of elementary schools.