FCSS provides family support
Posted on February 24, 2015 by Sunny South News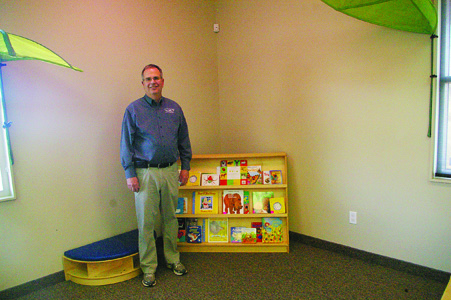 By Stan Ashbee
Sunny South News
Being a significant other, a parent, a child or a grandparent can have a few challenges from pre-conception to the grave but communities are fortunate to have agencies such as Barons-Eureka-Warner Family and Community Support Services (FCSS) to lend a helping hand.
"Our bread and butter is a general foundation for relationships. We start at the earliest years — in fact, more of our research talks about the importance of establishing relationships with your children in the first months or up to three years and how that lays the foundation," said Director of FCSS Brett Drewry.
The Hub is home to FCSS and the Parent Link Centre in Coaldale.
FCSS covers 16 municipalities in southern Alberta including Lethbridge County, the M.D. of Taber and the County of Warner.
It also covers the communities of Barnwell, Barons, Coaldale, Coalhurst, Coutts, Milk River, Nobleford, Picture Butte, Raymond, Stirling, Taber, Vauxhall and Warner.
According to the FCSS outline of services, the FCSS mandate is to optimize human development by providing services to strengthen individuals, families and communities.
Drewry noted an emphasis of FCSS is geared towards the parent-child relationship, early childhood development, caregivers, interactions with children from caregivers, how the agency can facilitate that and to help community members reach their potential.
According to Drewry, FCSS offers supports for the teen years, family counselling services with clients ranging from 6 years old to 96 years old, helping clients with specific issues, providing early identification of specific issues and a seniors program.
Drewry also noted FCSS doesn't offer support for addictions or domestic violence issues but can provide assistance of where to get support in those areas.
The seniors program, Drewry added, teaches seniors how to develop or maintain self-reliance, independence and quality of life.
Overall, FCSS aims to inform community members of the importance of connections and attachments and how cultivating those connections form the basis of health.
Services provided for children aged 0-5 years old and their parents include Attachment-Based Parenting, Bringing Baby Home, Baby and Me, Daddy and Me and COPEing with Toddler Behaviour.
Services provided for teens and their parents include Between Friends, Mentoring, Counselling For Teens and Parents and Navigating the Teen Years.
FCSS also provides counselling and family life education including counselling for individuals, couples and families.