Sprinkler system upgrades on tap
Posted on March 19, 2015 by Sunny South News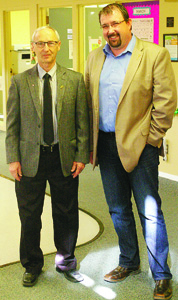 By Stan Ashbee
Sunny South News
Piyami Lodge in Picture Butte is about to get a little sprinkle of government funds to upgrade sprinkler systems in the seniors home.
Little Bow MLA Ian Donovan was at the Piyami Lodge last Friday afternoon to announce the provincial government's $80 million pledge to upgrade sprinkler systems in seniors' homes across the province.
"Green Acres has always done a great job of making sure everybody's safe. There's already sprinklers in the building but there's a lot of upgrades that need to be done," said Donovan, as he made the announcement in front of residents, staff and Town of Picture Butte councillors Teresa Feist, Cathy Moore and Deputy Mayor Joe Watson.
"It's one of those things that we need to keep our seniors safe and I think the key is to make sure everything is always being kept upgraded," he added.
Having emergency care tied onto the Piyami Lodge, Donovan believes, is a great option for all the residents in the Picture Butte seniors facility.
"I think that is one of the great facilities that we have here."
Donovan noted the province is putting $320,000 into the Piyami Lodge upgrades in the form of a grant. He also thanked the Green Acres Foundation for applying for the grant.
"For all the work they do because they run so many different facilities," said Donovan.
Green Acres Foundation Board Chair Bill Martens said it's really nice the government realizes seniors are very important people.
"That they're giving us this money to help upgrade our buildings," said Martens, who is also a Town of Coaldale councillor. The safety of seniors is very important, Martens added.
Piyami Lodge Manager Brenda McDonald said it's wonderful the government was able to help the lodge with upgrades.
"We'd like to improve our facility, even though it's so great right now but it does get older and you just want to make sure that you have everything for safety reasons but also for the enjoyment of the residents," said McDonald.
McDonald added improvements to the sprinkler system most likely won't happen until the summer.
"We are actually waiting to see if we can get some other government grants. If we do that, then we can make some more improvements at the same time," said McDonald.