Technology lends a hand at Coyote Flats
Posted on April 28, 2015 by Sunny South News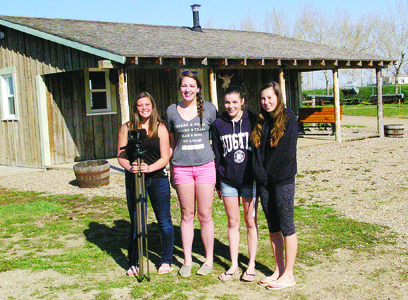 By Stan Ashbee
Sunny South News
Technology is a useful tool to keep records of the past, as Picture Butte High School (PBHS) students found out first-hand last week.
PBHS students visited Coyote Flats Pioneer Village at the Prairie Tractor and Engine Museum with hi-def video recording equipment to document local history.
Students interviewed local seniors about stories and memories related to the antique buildings and artifacts displayed, as part of the Coyote Flats Oral History Project.
According to co-ordinator Kimberly Lyall, the project is funded in part by the New Horizons for Seniors program. Funding helped purchase three hi-def video cameras for the PBHS media lab.
One of the students, Markus Renning, explained the project has been a great experience to see all the different buildings and learn how people used to live back in the day, while capturing historical pieces on video.
"It's more fun than coming out here with pens and paper," he added, in regards to having the opportunity to use video equipment to archive the history of the area.
A series of short videos about Coyote Flats will be produced in the classroom and shared with Coyote Flats for use on their website and to promote tourism. The Centre for Oral History and Tradition (COHT) at the University of Lethbridge has been an important partner to the project.
Lyall noted the volunteers became more at ease telling their stories and sharing their memories, as the students conducted the interviews.
"I'm really trying to impart upon them how important it is because what they did over the last 100 years to build this community — it matters. There's a whole generation that doesn't know what it was like to live on a farm in the 1940s or 1950s out here and what it's like to be in a house without electricity or without a phone or without running water," said Lyall.
Students are creating connections with the interviewees, Lyall said, as she told students to think about today's YouTube videos online.
"They're all stories of people and their life and their experience. These people had an incredible experience in this community and we just need to share that and honour that and preserve it. Really, that's the end goal. At the end of the day, not only do we want to create the interest and the respect for what we're hearing but we want to make sure those stories get saved, so 100 years in the future, people can look back and say this is what happened. These were real people, real lives — this is how they grew up, this is how they created this community and we're proud that they did it here," she noted.
Next up for the project, Lyall added — the students are going to produce shorter videos with longer life-history interviews with many of the volunteers. "You can't tell a whole life-story in less than a couple of minutes."
"The students are going to be putting the videos together. We're going to have a community celebration in June, where we'll be able to showcase a lot of these videos and hopefully put them on our website. We just got word we did receive a grant for the summer to have an Oral History Curator, so the project will continue over the summer with a student continuing to do interviews," said Lyall.
Lyall said all the footage shot by students will be added to southern Alberta archives.
"So researchers and historians into the future will have access to it," she said.