Leadership award for Rivard
Posted on May 12, 2015 by Sunny South News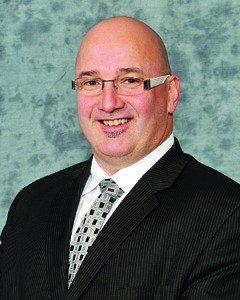 Palliser Regional Schools
A Palliser Regional Schools administrator received an outstanding leadership award from one of North America's leading experts in assessing and responding to threats or threatening behaviours.
Associate Superintendent (Education Services) Pat Rivard was recognized by Canadian Centre for Threat Assessment and Trauma Response Executive Director Kevin Cameron and Managing Director Kerry Cameron at a conference in Banff Apr. 30.
"Pat Rivard has played a dominant role in southern Alberta in moving the field of school and community Violence Threat Risk Assessment and Intervention (VTRA) from being heavily school focused to truly 'multiagency' where all key helping agencies are working more collaboratively and more successfully on behalf of children, youth and their families," Cameron said.
"It was both his knowledge and tenacity to move this complex work forward that were the reasons for being selected for the Outstanding Leadership Award."
Kevin Cameron's ground-breaking work in response to a school shooting in Taber in 1999 contributed to the development of a Violence Threat Risk Assessment VTRA protocol, a team approach to assessing and responding to high-risk student behaviours to prevent escalations to violence.
In Palliser, Rivard leads VTRA training for school staff and oversees the assessment of behaviours in schools that might suggest risk. He has provided training to members of law enforcement, other school jurisdictions and human services agencies across the region and played a key role in dozens of agencies renewing their commitment to the Southwest Alberta Regional VTRA Protocol earlier this year.
Rivard also chairs ALERT, a committee of school, law enforcement and other agencies dedicated to school safety.
He worked in social work before entering education, giving him a unique understanding and background.
The leadership award is in recognition of Rivard's "development, implementation and ongoing support of Community Violence Threat Risk Assessment and Intervention Protocols."
He also leads Palliser's counselling supports to students and staff when a trauma touches a school community.
Palliser Superintendent Kevin Gietz said Rivard has led outstanding work in the division to not only assess worrisome behaviours but to establish follow-up plans and supports for those who need it. The result is a strong, safety-focused system.
Rivard said the award from Cameron was deeply humbling.
"He is a mentor and ambassador for childhood safety and trauma in North America," Rivard said. "What better mentor that that?"
Rivard also credited Gietz for his commitment to ensuring safe and caring schools.