Burgers, fries and McCafe: McDonald's kicks off west Coaldale project
Posted on June 9, 2015 by Sunny South News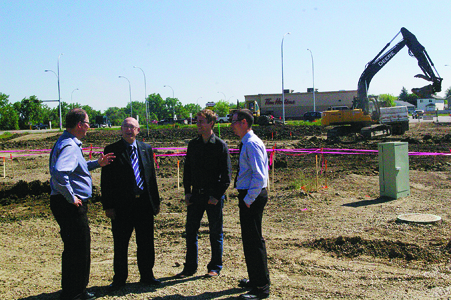 By Stan Ashbee
Sunny South News
Coaldale residents and travellers on Highway 3 will soon see the Golden Arches, as McDonald's construction is underway, as the Town of Coaldale kicks into high gear with the west Coaldale realignment project along the well-travelled highway. The new restaurant is being constructed at the corner of the highway and Land-O-Lakes Drive.
"We are excited an iconic business has identified Coaldale as a suitable place to invest, as it demonstrates the promise Coaldale has in both the present and the future," stated Mayor Kim Craig, in a recent media release to announce the new business venture, which will feature 24-hour dining and drive-thru.
"Coaldale businesses have always been focused on community and have contributed much to the development and growth of our town," he added, in the release.
Craig noted in the release, the town looks forward to welcoming McDonald's into Coaldale with an opportunity for new business development, which will provide job openings and economic spin-off by helping to grow the town's commercial tax-base and enhance future business development.
Coaldale Chief Administrative Officer (CAO) Kalen Hastings said the development of west Coaldale was spearheaded, in part, by a need to realign the west portion of 21 Avenue.
"To make it more conducive to future growth and commercial development," said Hastings, in the release.
Hastings added in the release, the town is pleased McDonald's is the first of, what is hoped, will be many more business ventures in the area.
"This project was only made possible through the co-operation and support of the Canadian Reformed Church of Coaldale, located west of the Tim Horton's property," said Hastings, in the release. "They have been excellent to work with throughout the planning and construction process. Without them, the project would not have been possible," he added.
According to the town, it was able to acquire a portion of the northeast corner of the church's parking lot in order to facilitate the new footprint of 21 Avenue. "This has been an excellent public-private collaboration with all stakeholders involved," said Hastings, in the release.
It was stated in the release, another 1.7 acres of town land will be sold to future development through a request for proposal process to facilitate the west Coaldale project. The release stated the cost of realigning 21 Avenue was financed through a combination of commercial land sales, infrastructure cost-sharing arrangements and future tax revenue.
Owner and operator of the Coaldale location Dan Brown said he's excited about McDonald's coming to town.
"I've been in Lethbridge now for five years and when we first came here we always thought it would be kind of neat to have McDonald's in Coaldale. McDonald's always said at some point they would look at the smaller communities and when I got the phone call last fall that Coaldale was a possible site, we thought — yes, that's awesome," said Brown.
Brown is the owner and operator of six locations in Lethbridge, including four traditional restaurants and two locations in Wal-Mart stores and one location in Taber and one location in the Wal-Mart store in Pincher Creek.
His son Jordan, is the operations manager of the locations including the one opening soon in Coaldale.
Brown's roots brought him out west from Steinbach, Manitoba — a community close to Winnipeg.
"There, I started as a manager for 20 years, I worked in one restaurant. Then I became an owner and operator in Thompson, Manitoba," said Brown, adding he was there for just over six years.
He was then invited to buy the Lethbridge market and came out and fell in love with the area and in 2010 he purchased Lethbridge locations.
"Now, we're continuing to grow the market and looking for better and bigger things," he noted.
According to Brown, some employees from the Lethbridge locations live in Coaldale.
"They already think this will be great. Something new to the community. We're excited to partnership with Mayor Kim and the council — how we're working together and how we can make this happen, as soon as possible," said Brown.
Brown said he hopes the restaurant will be open by mid-September.
"The budget of 14 weeks from start to finish — in a few months, we'll be open," he added.
Brown said the Coaldale location will be looking to hire, as soon as possible.
"Already, we are looking at some of our employees who work in Lethbridge that live in Coaldale. They are wanting to work at this restaurant. We're excited that people are going to want to come out and apply. We're looking for about 55 staff and we're quite confident we'll be able to staff it with the people here that live in Coaldale," said Brown.
Brown added, at this time, the Coaldale location will not have a Play Place for kids but it will have three touchscreen games for children.
"In future years, if we do any expansion, possibly as the population grows, we're not afraid to put on a Play Place if it warrants it."
Keep an eye out for Ronald McDonald visiting local events this summer.