Hair today, gone tomorrow for Coaldale Kindergarten student
Posted on June 9, 2015 by Sunny South News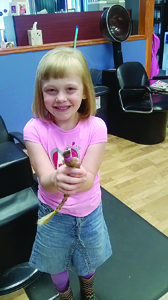 By Stan Ashbee
Sunny South News
Amanda Wright is extremely proud of her six-year-old daughter Samantha. Samantha, a St. Joseph School Kindergarten student in Coaldale, cut her hair for the very first time last week and donated her hair to the Canadian Cancer Society.
"I'm so incredibly proud of her — just to do this. She really liked her hair and that was part of her and that was part of her identity almost because it was always up in a ponytail or a braid or whatever," said the proud mom, who lives in Lethbridge but works in Coaldale.
"She's never had a haircut in her life other than a little trim," Wright added.
According to the mom, Samantha has an older sister Karley, who went through cancer— and is a cancer survivor.
"Her cousin was donating hair and so we were kind of talking about it and it just happened we were trying to get her to cut her hair anyway and she was not really wanting to but then if she could donate it like the cousin was, then it would be OK. Since she's seen pictures of my other little girl bald and stuff like that, she wanted to cut it for another little girl that had no hair," said Wright, adding nine-year-old Karley also attends St. Joseph School.
With hair down to Samantha's waist, Wright said, once an opportunity came up for her daughter to cut her hair, she visited a local hair salon before Samantha changed her mind.
"She was actually very excited when we first started because we got it done at Dream On Hair Salon," said Wright, adding the hairdresser was very nice and very excited about the hair cut, which in turn got Samantha excited about the experience of donating her long locks. "She liked her braids and ponytails," joked mom.
Tell us about exceptional residents of Lethbridge County. E-mail ssnews@shawbiz.ca to tell us about it.