Legion junior poetry winners at R.I. Baker Middle School
Posted on June 9, 2015 by Sunny South News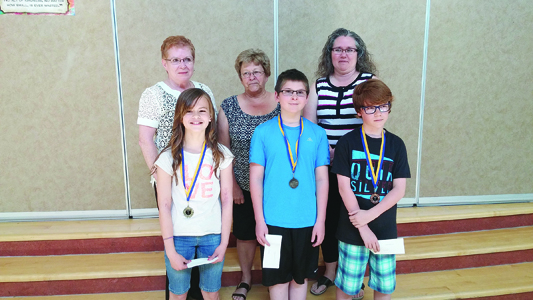 By Stan Ashbee
Sunny South News
Three students from R.I. Baker Middle School in Coaldale recently won first, second and third place in a Junior Poetry contest in the Lethbridge region — put on by the Royal Canadian Legion.
The Legion's annual poster and literacy contest, which is open to all students across Canada.
"The Legion, every year, has a contest. They've done it for 50 years across Canada. Students can enter, I think it starts in Grade 4 all the way to Grade 12. There's poetry, art or a short story. It has to do with Remembrance Day. Every year they kind of have a theme of what you are remembering. They don't want the guns or the soldiers — it's more like peace and what they have done, so we have the freedoms we have today," said Baker Librarian Sharon Beuckert.
In the fall, Beuckert said, the Legion sent a brochure of last year's winners and the content was shown to students, so students could have a look at what kind of work was done in the past.
"It was one Grade 6 class and two other students from Grade 5 that entered on their own. We sent it all into the Legion and they have judges who are usually retired school teachers and then they read them all and judge them. This year, we had three students from Grade 6 win first, second and third in the poetry and they win money," she said, adding Sandra Holland was the teacher who submitted the students' poems.
In first place was Hope Adams, in second place was Wesley Tews and in third place was Isaac Hoogerdyck.
Leith Teller and Jacquie McLean from the Poppy Committee of the Lethbridge General Stewart Branch #4 was at the school to present the prizes to the student winners of the contest.
Beuckert noted the contest is held each year to keep each generation remembering Remembrance Day.