County's corn connection
Posted on July 14, 2015 by Sunny South News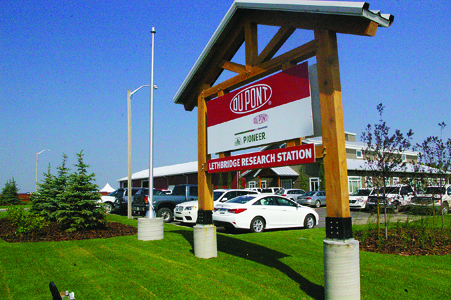 By Stan Ashbee
Sunny South News
There's nothing corny about the new DuPont Pioneer research facility — or maybe there is.
A grand opening celebration was held last week to introduce the new Lethbridge Research Centre facility, which will further develop work on ultra-early maturity corn hybrids, canola hybrids and soybean varieties in the area. The 22,500-square-foot facility is located in Lethbridge County, just off Highway 3 east and on Range Road 20-4.
According to an official media release in regards to the grand opening, the goal of the new facility is to provide growers additional, higher-value crop choices to fuel growth of the Western Canada agricultural landscape. The facility is also part of a five-year $35 million investment in research and development (R & D) for Western Canada.
"We believe agricultural innovation will be critical in meeting the needs for food requirements, not only now, but long into the future. Having research like this, in places like this on the ground, is how we're going to get there," said Bryce Eger, business director and president of DuPont Pioneer Canada.
Eger noted DuPont Pioneer has one of the largest growth potentials for corn.
"That's why we built this research centre."
Steven King, evaluation zone lead for DuPont Pioneer Canada, said DuPont Pioneer has a vision to have a full product line-up of corn hybrids, soybean varieties and canola hybrids adapted through Western Canada.
"To do that, we really need a lot of intensive R & D effort. With the addition of this research facility and in addition to the ones we already have, it is integral to making the vision a reality," said King.
King explained he is a strong believer in the principal to have sustained success in the seed industry, "we have to breed locally and we have to test locally."
Little Bow MLA David Schneider said many farmers from across Alberta work hard to grow corn on their lands. " As one of the crops that continues to grow in demand for its varieties and its uses, Corn is an important contributor to the Alberta and Canadian agricultural markets. Due to the longer winters and shorter summers, Alberta can sometimes be a difficult place to grow corn. There are many farmers across this province that would certainly like to take the opportunity to grow corn but based on maturity growing degree days or corn heat units can take away that opportunity at this time," said Schneider.
With the grand opening of the new facility, Schneider added, it will not only create new jobs for people in the community but it will provide priceless information on the agri-science behind corn growing.
Lethbridge County Deputy Reeve Henry Doeve welcomed DuPont Pioneer to the county, on behalf of county council and Reeve Lorne Hickey.
"We're extremely pleased and proud you've chosen this region and this area to do your research. I know corn is the big focus of this facility and I think that's very valuable but I'm really excited about the soybean side of the research for this area," said Doeve.
During the grand opening celebration tours were offered to guests to check out the inside workings of the R & D efforts happening at the new facility.