Top-notch Canadian acts at Whoop Up Days
Posted on August 11, 2015 by Sunny South News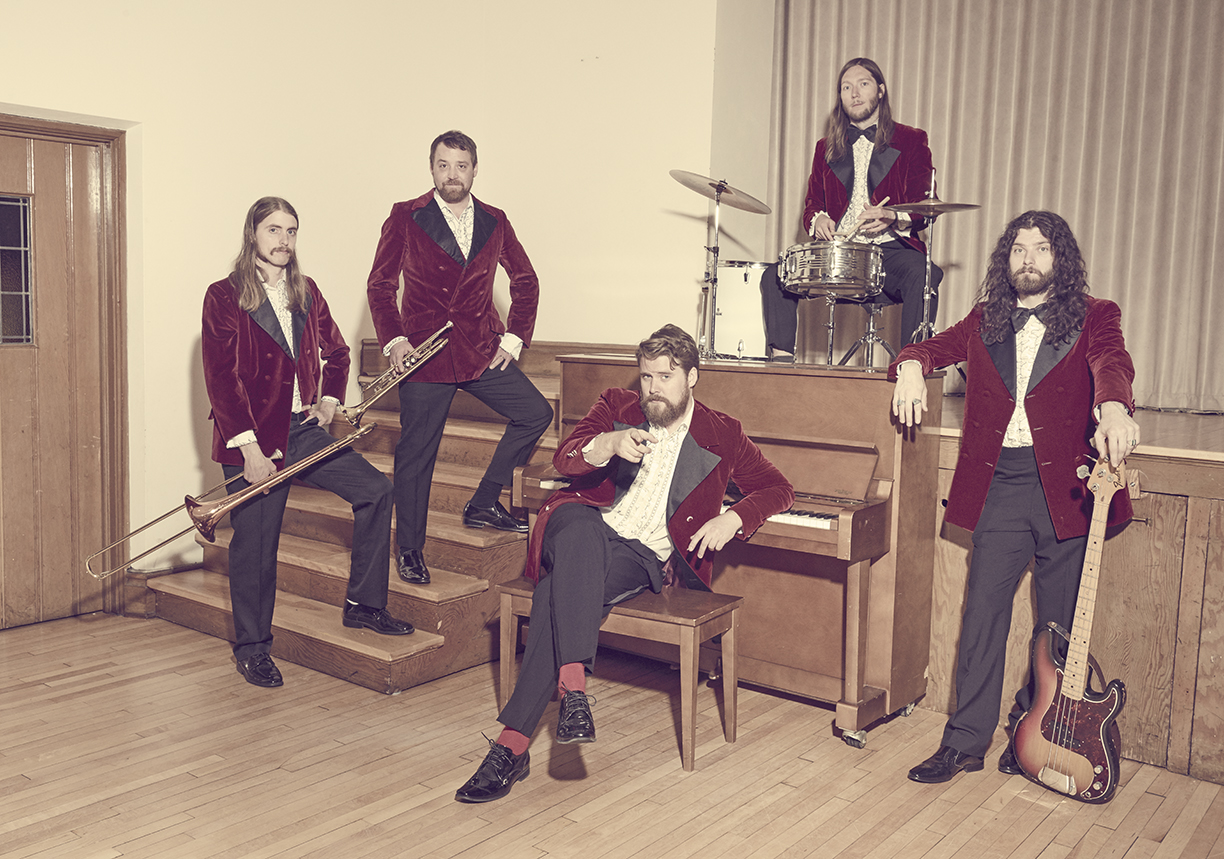 By Stan Ashbee
Sunny South News
It's time once again to whoop it up. Each and every year droves of Lethbridge County residents head into Lethbridge to Exhibition Park to take part in the Whoop Up Days festivities including the wide-assortment of live entertainment. This year, Pioneer Park hosts top-notch Canadian acts for everyone's musical palette.
Kicking off the musical mayhem Aug. 18 are the three-time Juno Award-winning artists The Sheepdogs from Saskatoon, Sask. Opening up for the band are local favourites Fast Times at 7:30 p.m. The Sheepdogs hit the stage at 9 p.m.
In October, the band releases their latest LP, "Future Nostalgia," with the new single "Downtown." Bassist Ryan Gullen said the band is gearing up for a very busy fall. "I'm excited to get that out. Prior to that we've been doing a lot of summer festivals and travelling around this summer," said Gullen.
Gullen explained the band has been touring a lot this past year but have wanted to record. The Sheepdogs had songs written, which were ready to be put down but scheduling had been tricky with touring. "We rented a cottage northeast of Toronto on Stony Lake and we set up a studio in a barn, which was kind of adjacent to the cottage. We lived up there for three weeks and all lived together, recorded together and did it ourselves. We definitely took a little bit more of a relaxed approach and a little bit more hands-on ourselves and a little bit more hands-off from other people involved. There wasn't really a lot of people sticking their nose in things. We really got a chance to explore the songs and figure out how we would want to make these songs sound and how we would want to arrange them. It resulted in, what I think, is a very honest and true to who we are as musicians and as a band kind of record. I think it means more to us just because we put so much time and effort into making it what we wanted to make," Gullen added.
The Sheepdogs, Gullen said, are always big fans of not holding off on new songs either when out on the road. "When we've got new songs, we're excited about them and we've been playing them all summer. We are introducing more and more into the set."
Obviously, Gullen noted, the band plays the hits too. "It's kind of a balance between those two things. You're really excited about new music but you realize people want to hear other songs too — you mix that up," said Gullen.
According to Gullen, the band is very fortunate, blessed and honoured to have been able to maintain the current Canadian and abroad fan base status. "We've been put into a situation where we are on the radio and we play concerts all over the place. People come out and we travel abroad and see people from countries that don't speak English singing along to our songs," he added.
Trends will come and go but Gullen said rock music has always had a place in time and in modern culture.
"The music we play is very much like a throwback to older rock and roll but I think there's always going to be what is popular, whether it's pop music that is kind of like dance music or it's hip hop music or whatever. But it's something to be said about how rock music makes people feel and it seems to always kind of be popular and it comes and goes. But, there are some definitely great rock bands in Canada right now and it's always nice for us when we're out there and we're making friends with other bands or we're going to these festivals. It's one of the few times we actually get an opportunity to see music because we're always kind of doing our own thing. It's always really nice for us," said Gullen. "I think there is always going to be a place for rock and roll but definitely in Canada, there seems to be people that are continuing to carry that torch. It keeps me excited and gives me faith in new music."
At the end of the month on Aug. 28, Gullen added, the band will be playing before a Toronto Blue Jays game and will also be throwing the first pitch.
"We're all pretty big Jays fans. We did it last year and it's definitely a little nerve-racking throwing the first pitch because you see all those videos of people being made fun of because they do it," said Gullen, who just may end up being that guy. "I'll have to work on my arm. I don't want to put myself out there and embarrass the rest of the band," he joked.
Gullen said The Sheepdogs try to make it a good old feel good kind of time during a live show.
"Rock and roll music — you don't have to take it too seriously. It's kind of supposed to be about letting loose and having a good time and we kind of try and bring that with our set and try to have as much fun as we can and make sure other people are enjoying themselves. It's just a bunch of guys playing guitars and singing. Much what you would expect if people listen to our music and haven't seen us. It's pretty much exactly what you would think," said Gullen.
On Aug. 19, Vancouver-based One Bad Son hits the stage at 9 p.m. to perform a plethora of rock radio hits including "Scarecrows," "It Ain't Right," "Retribution Blues," and the latest single "Satellite Hotel" from their fourth full-length album "Black Buffalo."
Medicine Hat native Mackenzie Porter headlines Aug. 20 at 9 p.m. at Pioneer Park. Porter is a CCMA Rising Star and was awarded Best Female Artist for her soaring voice and mesmerizing fiddle playing. She also plays guitar, piano and mandolin and her brother is Canadian Idol winner Kalan Porter. Mackenzie is also an actor and appeared on the hit TV series, "Hell on Wheels." In May, Porter released her latest single, "Rodeo."
Kingston rockers The Glorious Sons headline Aug. 21 at 9 p.m. The band has had many rock radio hits including "Mama," "Heavy," "White Noise," "Lightning," and the latest single "The Contender." The Glorious Sons were also one of the most-played new Canadian artists on rock radio in 2014. The band returns to southern Alberta, as they previously performed live in Lethbridge and in Coaldale.
Don't miss Festival Roots and Blues Day with headliner Steve Hill on Aug. 22. Beer Gardens open at 3 p.m. with music from 3:30-11 p.m.
Hill is the 2015 Juno Award-Winner for Blues Album of the Year and Maple Blues Award-Winner for Electric Act of the Year, Guitarist of the Year, Recording/Producer of the Year and Entertainer of the Year.
Hill is a one-man band — as he sings, plays guitar, plays bass with his feet as well as a drum, snare drum, hi-hats and more.
Hill, who was mixing a track prior to a telephone interview with the Sunny South News while on a short vacation, said he's been working on recording another solo project, which will be a third volume to be released in the spring of 2016.
"I've been working on it for awhile. I've been on tour now for a couple of months, so I hadn't really worked on the album. I just started working on it again," he noted.
Hill said the new album isn't exactly like the last album — Volume Two.
"The last one wasn't exactly like Volume One. The major difference is all the shows that I've been doing since the last volume came out, I must have done like 150 shows. It changes the way I play because I get to play the songs every night and get to try new things and I'm actually able to do stuff that I couldn't do when I did Volume Two. You can hear it in the new stuff," said Hill.
When Hill did Volume One, he said, he was basically foot-stomping and playing a bass drum and maybe a hi-hat on a few tunes and then he took the album on the road and played close to 200 shows.
"While I was touring, I added a snare and started modifying my guitars, so you could hear a bass. Volume Two was really different from Volume One. I'd say Volume Three is just as different as Volume Two was to Volume One. I guess you could say, it rocks a bit more. It's more of a rock and roll album than the last one. It's still bluesy but I'm able to do stuff I wish I would have been able to do years ago," Hill noted.
When live music enthusiasts find out Hill is a solo act and is a one-man band, they don't necessarily think the live performance will have a full-band sound.
"I don't have a bass drum in the back and a hi-hat on the head or nothing like that," he joked.
"It's a pretty big sound. It sounds like a band. It's blues but it's rock and roll at the same time. I also have a few country folky tunes. I always do a few acoustic songs during the show but it's mostly electric and it's blues rock. You shouldn't expect the traditional one-man band," he explained.
Hill said he can't speak for everybody else but he's been having great crowds this past year.
"People want to hear good live music. I've been seeing good bands too all over the country. There's great artists. You might not necessarily hear them on the radio or see them on TV but if you want to hear good music made in Canada, there's a lot of it," he said.
After Lethbridge, Hill will be continuing to tour both Eastern and Western Canada and will visit Europe in January and will return back home for the release of his new album.
"It's like a never-ending tour. It's been like that for years. I guess I'm lucky that way. I love being on the road. It's not a problem for me. I've been doing shows for 25 years now, since I was playing clubs when I was 16. I enjoy it just as much as I used to. Probably, even more. I really like this project I'm doing — the solo thing. I never would have thought I'd become a one-man band. It's so much fun. I've tried many different things in my career from blues to hard rock to country rock and southern rock and rockabilly — I just love music in general but with this thing, with the limits I have, I'd like to do big band stuff but I can't. The limits this format gives me, helped me to find my sound, finally after many years," said Hill. To check out videos of a live Steve Hill show or for more info visit online at stevehillmusic.com.