Nobleford to become next fibre optic community in Alberta
Posted on August 25, 2015 by Sunny South News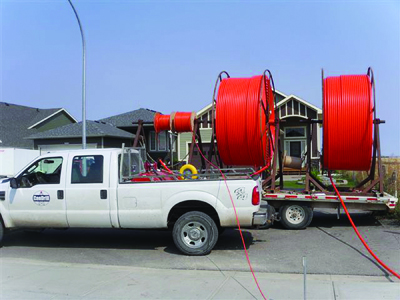 After securing 30 per cent of community sign up, construction of a new fibre optic network begins in Nobleford.
By advocating to get 30 per cent of homes and local businesses to register their interest at Axia.com, the Village of Nobleford has secured their community as the next rural community to receive fibre optic infrastructure from Axia.
Starting immediately, Axia will begin construction on a next generation fibre optic network, bringing unprecedented speed and reliability to homes and businesses within the community.
"If traditional copper wire isn't good enough for major city centres like Edmonton, why is it good enough for rural communities like Nobleford," said Robert Price, vice-president of residential and enterprise, following the recent fibre optic announcements in Edmonton.
"This fall we will begin connecting high-speed fibre Internet to residential and businesses in Nobleford, followed by more rural communities across Alberta."
"You cannot truly call yourself a modern community without genuine, affordable, dependable high-speed Internet. Fibre optic capacity and dependability brought to Nobleford, by Axia, allows Nobleford world-class communication capabilities," said Kirk Hofman, CAO of Nobleford.
Axia has plans to continue the expansion of fibre availability across rural Alberta in the near future.