RCMP makes changes in 'Butte
Posted on August 25, 2015 by Sunny South News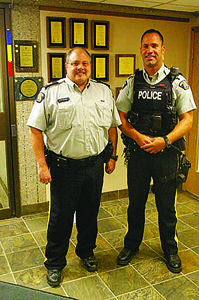 By Stan Ashbee
Sunny South News
Lethbridge County has a new county Enhanced RCMP officer, Cst. Devon Firth and a new RCMP Picture Butte Detachment Commander Sergeant Tom Howell.
Picture Butte marks Howell's third command as a sergeant, who has been a 30-year member of the RCMP — posted in B.C., the Yukon and in Alberta including Manning, his previous post. Howell currently lives in Coalhurst.
Both RCMP members paid a visit to a recent Lethbridge County council meeting for introductions and to ask council if councillors had any questions or issues to discuss.
Firth, originally from Taber, has been with the RCMP for the past four years and was previously stationed in central Alberta. He said he is trying to implement a rural crime watch program — hopefully, within a few months.
Lorne Hickey, county reeve, said previously the county had a police advisory committee or PAC and he asked the RCMP members if they would be willing to continue with a county PAC.
"It's a group of citizens from within the county," said Hickey.
Howell said if the community is willing to form a PAC, then the RCMP would follow through with the necessary steps.
"We've had a tough time keeping them going," said Coun. Ken Benson.
Coun. Morris Zeinstra noted he sat on the county's PAC for several years.
"It was maybe a group of nine or 10 — from all aspects," he said, adding the group would discuss county-related issues and concerns.
Howell added perhaps a PAC could be integrated into the rural crime watch initiative.
"We can maybe incorporate that into it," said Howell, adding the Picture Butte RCMP shares its policing jurisdiction with the Lethbridge rural detachment.
"We're still not quite sure how this is all going to unfold once they start policing in Coaldale and there's still a lot of unknowns, as how we're going to work together," said Howell.
Reeve Hickey noted the advisory committee title is in no way meant to mean the police service needs to be advised on how to do its job.
Howell said he believes it's all about communication. "And solving problems at the local level," he added.
Right now, Howell said, close to $100,000 was spent on building repairs at the Picture Butte detachment.
"We're sort of focusing on our building to bring it up to the new millennium. It was designed at the time we had two constables, a typewriter and a telephone and that was it," said Howell.
"We have more electronics in there than most aircrafts now," he joked.
Howell added the detachment will also be teaching D.A.R.E. this year within county schools. The motto of the program is to teach students good decision-making skills and to help them lead safe and healthy lives.