Quacks are back for Coaldale's annual duck race
Posted on September 1, 2015 by Sunny South News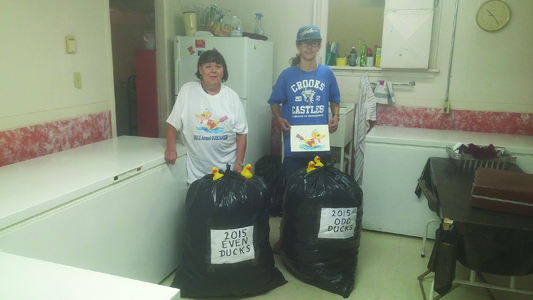 By Stan Ashbee
Sunny South News
It's always quack-tastic.
For the past 10 years the Coaldale Food Bank, along with the support of Scotiabank, have put on the ultimate duck race. This year, the wet and wild event takes place Sept. 12 and kicks off from the culvert at Land-O-Lakes Golf Course in Coaldale. The race is on starting at 12:30 p.m.
"We have 500 ducks in two different bags. There will be two races. The first race starts at 12:30 p.m. The second race starts at 1:30 p.m. We just dump 500 ducks at a time in the canal and let them float down to the finish line," said Vaughn Caldwell from the food bank, adding the finish line is at 22 Street at the culvert.
Caldwell noted the tickets are sold out. "We sold 1,000 tickets for the duck race already at $5 a piece," he said.
According to the duck race commander, the tickets have numbers on them from one to 1,000 and a corresponding number is on one of the ducks.
"If your duck comes in first, it's a $500 prize. The second duck is $300 and the third duck is $200. The very last duck that comes in, you get a ceramic duck for a consolation prize," said Caldwell.
Proceeds from the annual fundraiser goes to the Coaldale Food Bank and the funds are matched by Scotiabank. This year, funds raised were $5,000 and with matching Scotiabank funds the total will be $10,000. Scotiabank has helped support the event for the past 10 years.
"At the finish line, we will be set up for a free hot dog barbecue," said Caldwell, adding there will also be a donation bucket on hand at the finish line.
"It's a fun day and we encourage people to come out and see what we do."
Caldwell said the Christmas season is the next big thing for the food bank, with advertisements going out around the first of November.
"Asking people to sponsor a family," Caldwell noted.