Nobleford fire chief's 12 years of service recognized
Posted on September 8, 2015 by Sunny South News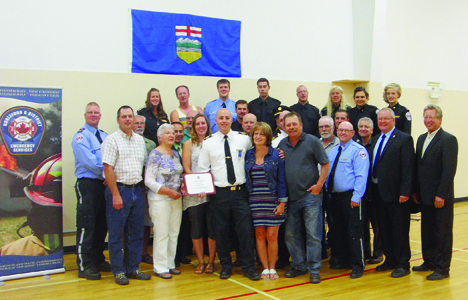 By Stan Ashbee
Sunny South News
Recently, Nobleford Fire Department Fire Chief Ryan Wagner received the Alberta Emergency Services Medal, in recognition of 12 years of loyal service to the people of Alberta. The award was signed by Alberta Premier Rachel Notley and the minister of municipal affairs.
Knowing Ryan for 12 years, Deputy Fire Chief Ivan Slingerland said, Ryan's very committed and very dedicated to the service.
"He's put his heart into the department, that's for sure," said Slingerland.
Slingerland has been on the Nobleford Fire Department for 14 years and has known Ryan for the past 12 years, in a fire department capacity.
Slingerland noted Wagner has been the fire chief in Nobleford since October 2013. "Every chief has their way of doing things. They all bring their own way of running a department," Slingerland added.
According to the deputy chief, the department had a busy May and June with accidents at the notorious intersection at Highway 23 and Highway 519, which is now under construction.
"Hopefully, that will take away a lot of the high-speed collisions we face there. We've had medical calls. The fire end of it has been reasonably slow. Actually, we have almost had nothing all summer. The odd little burn here and there but nothing extravagant," he said.
Slingerland said the department responds to all medical calls in and around Nobleford and this year medical calls have been the bulk of the department's responses, which seems to be the case throughout Lethbridge County.
Nobleford has also implemented the Active 9-1-1 app for Smartphones for firefighters.
"Active 9-1-1 is a very valuable tool for our use," noted Slingerland, adding all the information in regards to a call is right in front of volunteers on their cellphones.
"What it also allows us to do, as leaders of the department, is we can open it up and we can look at it and we can tell if the guys are vigilante," he said.
Firefighters can, through the Active 9-1-1 app, mark they are or are not responding to a call.
It allows the leaders of the department to know availability of the firefighters and it even has the ability to let leaders know where a firefighter is and where they are coming from.
"Whether they're in Lethbridge or Fort Macleod or wherever it may be."
Slingerland said overall, it's been a great department all these years.
"We have a great crew and a lot of dedicated volunteers," he added.