Pig and Pull at Coyote Flats
Posted on September 8, 2015 by Sunny South News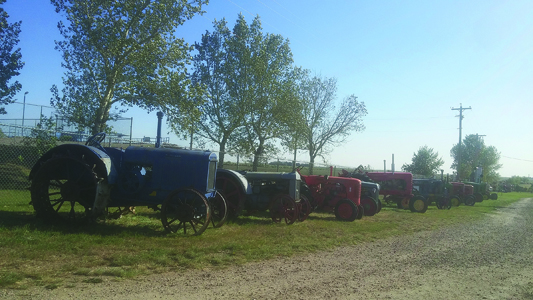 By Stan Ashbee
Sunny South News
Many Picture Butte and surrounding area residents love a good old fashioned fall family and friend pig roast. It brings the community together to chit chat about the summer and the upcoming cooler months. Throw in a silent auction and a tractor pull and you've got the Eighth Annual Pig and Pull Fundraiser Dinner at the Coyote Flats Pioneer Village at the Prairie Tractor and Engine Museum near Picture Butte. This year's Pig and Pull is this Saturday.
"The fundraisers are always really good for us and we appreciate the community support. There are a lot of people that donate a lot of different prizes, which we auction off. We've got raffle tickets for either cash or a lawn tractor," said General Manager Pieter L. van Ewijk.
At 1 p.m., the antique tractor pull kicks off. Pullers are reminded to register by 12:30 p.m. Admission is by donation for this event.
"Everybody can get in free. We'll sell hot dogs, hamburgers and likely some ice cream again," he noted.
Pieter believes the allure of a rural community tractor pull is simple.
"Many in our crowd are older and they love seeing so many old tractors going again. A lot of the tractors in the pull are our own tractors or member tractors. We've had tractors from the early 1920s pull here. When you hear about a John Deere having 600 plus horse power that is a phenomenal event but if you're a farmer farming 6,000 acres — that's important — but when you have a two-cylinder tugging away in its weight class, it's just neat to see," Pieter said.
At 6 p.m., it's a spit roast pig feast with a silent auction and live auctions, raffles, prizes and surprises for $30. For tickets or to donate call 403-732-5451 or check out the Flats online at coyoteflats.org. Auction items are on display this week at Butte Home Hardware.
"We've got a couple of whole pigs donated, which is awesome. There's going to be minimal entertainment but there's going to be a lot of things auctioned off," said the historical site's G.M., including some big prizes.
Pieter said the community is very supportive of the annual Pig and Pull fundraiser.
"I've got four and a half pages of people that donate and it's a lot of local companies and some Lethbridge companies. Many companies that we deal with but also a lot of companies just happy to support a local museum," he said.
According to Pieter, the Lethbridge County museum is also working with the Galt Museum in Lethbridge.
"We've got a tractor we're going to donate to them, hopefully within the next month," Pieter explained.
There are a lot of different organizations, Pieter said, that would like to be a part of something good.
Pieter said the museum is expecting 150 plus people in attendance this year.
"It's going to be a really good dinner. It's our most significant fundraiser of the year. We've had a lot of good events like the car show, certainly Harvest Days but this is the one where we really hope to raise a good chunk of money, as well," Pieter added.
The Pig and Pull also marks the last official festive event for the season but the museum also has a Christmas party for the volunteers. "To recognize their participation and all their hard work."
Coyote Flats closes Sept. 26.