A cornucopia of fun awaits at the Lethbridge Corn Maze
Posted on September 29, 2015 by Sunny South News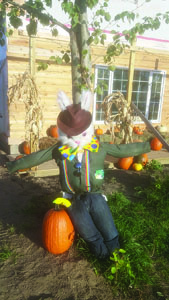 By Stan Ashbee
Sunny South News
Corn isn't just for slathering with butter and salt and pepper, it's also a lot of fun to run around and get lost in. The Lethbridge Corn Maze, located in Lethbridge County near Park Lake, is a fun-filled afternoon or evening for the whole family.
"The season is going really well. The numbers are really increasing every year and it's going really good this year. People are coming out," said Theo Slingerland, co-owner of the southern Alberta attraction since 2000.
But, it's not just a corn maze — there's a petting zoo, a playground with a giant slide, a pumpkin slingshot, a cow train ride, hay rides and a wide-variety of pumpkins to purchase in the fall from the Slingerland's very own pumpkin patch.
Slingerland also designs a new corn maze each and every year. "This year is a different design and it looks a little bit like a star," he noted. The attraction also features a concession and even delicious homemade jam is for sale.
As a fundraiser this year, the Lethbridge Corn Maze is also presenting their first Scarecrow Competition. Participants can create their own scarecrow, bring it to the corn maze and judging will take place this Saturday with cash prizes for the top three winners. There is a $10 entry fee for each scarecrow and proceeds from the event will go to the Ronald McDonald House. Entry deadline for the scarecrow competition is this Thursday.
"They're starting to trickle in. That's something new and hopefully that will take off a little bit. It's the first year, so we hope to make that a tradition," said Slingerland, adding on Thanksgiving Day Monday all proceeds from the day will also go to the Ronald McDonald House.
From the parking lot, licence plates on the weekend come from far away as Saskatchewan and British Columbia to check out the corny attraction (no pun intended). "They're coming from everywhere," the cornucopia king added.
"The corn is looking really good this year. There's been plenty of heat and we've had plenty of water to put on. It's looking really good and the frost hasn't come yet, so everything is going well so far," said the corn maze master.
Slingerland said the corn maze itself is a big fun part of the attraction. "But we also have a petting zoo and a whole yard. You can spend hours here and have fun. People will come for pumpkins, as well. If you want to have an afternoon or evening of fun just come on out and we have some entertainment for you."
The southern Alberta attraction is open until Oct. 31.
For admission prices, directions and hours visit online at http://www.lethbridgecornmaze.com.