U of L student not packing bags for Ottawa
Posted on October 14, 2015 by Sunny South News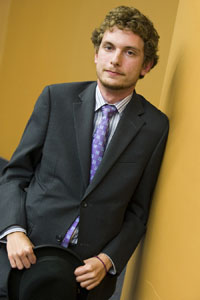 Herald photo by Ian Martens Solly Eli Krygier-Paine is the Rhinoceros Party candidate for the Lethbridge riding in the upcoming federal election.
By Dave Mabell
Southern Alberta Newspapers
He's urging people to get out and vote. But he's not packing his bags for Ottawa.
Instead, Rhinoceros Party candidate Solly Krygier-Paine is taking part in political forums and using humour to raise questions about the other contenders' catch phrases and speaking points.
"I've just been going out and encouraging lots of people to vote," he said.
A fourth-year anthropology student at the University of Lethbridge, Krygier-Paine traces his interest in politics to his high school days in Calgary.
That's where he heard about other Rhino candidates shaking up forums in staid, predictable ridings across the country.
After deciding to run in this fall's election, Krygier-Paine said he found plenty of support — even from students active in other parties — when he set up a table during "rush week" on campus.
"The response has been surprisingly positive," he reported.
While some students raise issues involving one party or another, others are more concerned about changing to a proportional representation system of voting.
"And some are very cynical and jaded."
That's how the Rhinoceros party got its name, Krygier-Paine explained. Voters in Brazil, fed up with corrupt politicians, elected the rhino in their local zoo to a seat on city council.
Is that how young voters feel about politics in Canada?
"I'm trying to gauge whether people feel they're part of this process."
Locally, he added, he's paying attention to the ABC (Anybody but Conservative) mood.
Though he's been approved by the party's head office, Krygier-Paine hasn't been emphasizing some of its platform planks.
They include nationalizing Tim Hortons to keep it Canadian, to repeal the law of gravity and to move the nation's capital to a more central location: Kapuskasing, Ont.
This year, Rhino is also proposing Canadians a guaranteed monthly orgasm. But then it's also mocking other parties by promising, if elected, it will ignore all its promises.