Harder wins Lethbridge riding MP seat, as Trudeau becomes Canada's PM
Posted on October 19, 2015 by Sunny South News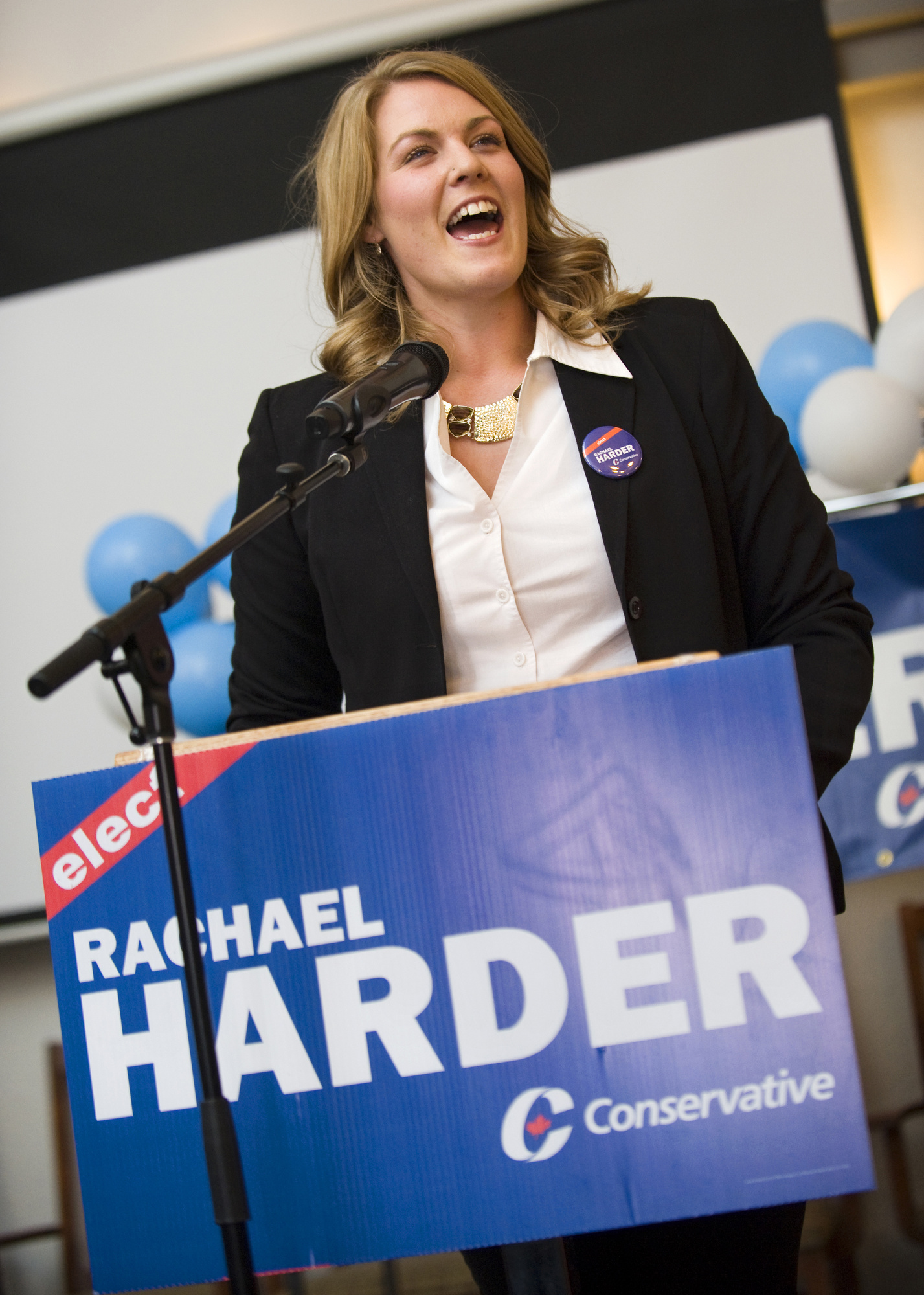 Lethbridge Herald photo by Ian Martens Newly elected Conservative Rachael Harder thanks her supporters Monday evening during her victory party in Lethbridge.
By Stan Ashbee
Sunny South News
As a sea of red claimed victory across the eastern provinces of Canada Monday night early on in federal election polling results — one thing was apparent and stood out amongst all the hoopla of an epically too long of an election campaign — the majority of Canadians wanted change, well federally that is.
Last night, the federal Conservatives, once a majority government in Canada, became the Official Opposition, unofficially at an early deadline of 10:30 p.m.
But, in the Lethbridge riding (which includes Lethbridge County), as well as across Alberta, the federal Conservatives kept their stronghold in southern Alberta ridings and in Calgary and Edmonton.
Rachael Harder was elected (unofficially at press deadline) Lethbridge riding's new Member of Parliament, succeeding Jim Hillyer, who also won his seat in the expanded Medicine Hat-Cardston-Warner riding. Harder, who grew up on an Alberta farm near Kathryn, is a University of Lethbridge graduate and will now represent the Lethbridge riding in Ottawa.
It was a tough campaign trail locally, as Harder was up against some stiff competition in NDP candidate Cheryl Meheden, Liberal candidate Mike Pyne, Green Party candidate Kas MacMillan, CHP candidate Geoffrey Capp and Rhino Party candidate Solly Krygier-Paine.
According to Elections Canada, there are 238 polls in the Lethbridge riding and 82,225 registered electors. Population listed for the Lethridge riding, as of election day, was 105,999.
As of 10:30 p.m. last night, due to a press deadline, Harder had 20,072 votes. Meheden had 9,547 votes, Pyne had 8,360 votes, Macmillan had 1,194 votes, Capp had 589 votes and Krygier-Paine had 162 votes.
Federally, the Liberal Party of Canada won a majority government under the leadership of Justin Trudeau (unofficially at press deadline), the nation's new Prime Minister of Canada.
As of 10:30 p.m. last night, due to a press deadline,, Trudeau had over 25,000 votes in his riding of Papineau and the Liberals had 39.7 per cent of the vote. The Conservatives under Stephen Harper's leadership had 32.1 per cent of the vote, the NDPs under the leadership of Tom Mulcair had 19.3 per cent of the vote, the Bloc Quebecois had 4.9 per cent of the vote, and the Green Party of Canada had 3.3 per cent of the vote — according to unofficial reports.
Alberta Premier Rachel Notley issued a statement on the result of the 2015 federal election, in a media release.
"I would like to congratulate Prime Minister designate Justin Trudeau on his electoral victory," she stated in the release, adding she looks forward to working collaboratively with Trudeau to build a strong Alberta within a strong Canada.
As leaders, Notley said in the release, there is a need to work together to build important infrastructure, strengthen the health care system, address climate change and develop a respectful relationship with Indigenous peoples.
"By growing our economy and protecting the environment, we can continue to make Alberta and Canada a great place to live, work and raise a family," she added. Notley noted she wanted to acknowledge and thank all the Alberta candidates for their hard work during the election campaign.
"No matter what your political stripes, you have demonstrated to Albertans the importance of democracy."
Sunny South News will feature stories in the weeks to come on election results. from the 2015 federal election.
*These are updated election poll results from the morning of Oct. 20 from Elections Canada (unofficial):
Conservative – 32,322
NDP – 11,674
Liberal – 10,532
Green – 1,461
CHP – 746
Rhino – 209
Voter turnout according to Elections Canada:
56,944 of 82,225 registered electors or 69.25 per cent (does not include electors who registered on election day).