Blankets delivered thanks to the warmth of Coaldale volunteers
Posted on October 20, 2015 by Sunny South News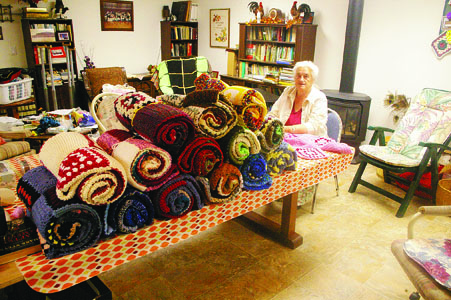 By Stan Ashbee
Sunny South News
Ninety homemade blankets were off to Medicine Hat last week for those in need — thanks to the ladies of Blankets For Canada, a group of Coaldale and area volunteers with the knack to knit.
"Last year, we shipped 100 but due to circumstances with a number of ladies sick over the summer, we still got 90," said organizer Nellie Slingerland.
Coaldale's Blankets For Canada project started in 2006, according to Slingerland, and the recent batch of blankets was the second to go to Medicine Hat to the Salvation Army Store. "They're going to have a special project — Project Connect," noted Slingerland and volunteer Loreen Blacker, the Project Connect initiative is similar to one in Lethbridge.
"And they give the blankets out," added Slingerland, and close to 1,500 blankets have been sent, since the project started in Coaldale. The Lethbridge Blankets For Canada project recently delivered a bunch of blankets to the Fort Macleod detox centre and the homeless shelter and Streets Alive in Lethbridge. "Or wherever they are needed. All the way up to Calgary."
Slingerland said there are different Blankets For Canada groups all across Canada including the group in Lethbridge, where it all began.
"The way it started in Coaldale was Lethbridge was overloaded," she said and there was a room full of squares from the floor to the ceiling and no one was around to stitch the squares together to make blankets.
And, Slingerland mentioned why not set up shop in Coaldale to help with the overload and she was told it would be a blessing. "The rest was history," she added.
Anywhere between six and eight volunteers come out each week, she said — Thursdays from 10 a.m. to 2 p.m. at Slingerland's home and top-notch blanket-making facility downstairs. For more information about the project call Nellie at 403-345-3205. Blankets For Canada is located in Coaldale at 2226 23 Avenue.
"If anyone wants to see what we do they're welcome to come visit and have a cup of tea with us," Slingerland said.
There's also a bin out front of Slingerland's house under the Blankets For Canada sign for people to drop off donations of materials such as yarn and for slightly finished projects or squares.
"If they don't have time to come and visit, there's a bin out there," she said.
When the Slingerland's built their new home, Blacker noted, Nellie insisted on an area in the house for the project to keep going. The basement is equipped with tables, equipment and materials and a lot of room for storage.
"We can leave an unfinished project out on the tables until next week. We don't have to put everything away. It makes a big difference," said Blacker.
"Lethbridge has to put everything away," added Slingerland.
The project, Blacker said, wouldn't be as successful if it wasn't for Nellie.