Fighting Schans share local history
Posted on November 10, 2015 by Sunny South News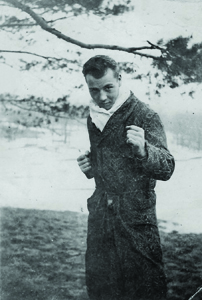 By Stan Ashbee
Sunny South News
Darren Schan, from Diamond City, comes from a family of heroes — Canadian war heroes from the Second World War.
His family was otherwise known as the Fighting Schans — seven brothers and one sister from Lethbridge. They were Jim, Jack, John, Joe, Leo, Leonard, Nick and Dorothy and they were all enlisted in the military during WWII.
Darren's grandfather was Leo Schan, who was born on the first Remembrance Day Nov. 11 in 1919.
Leo was recognized for his efforts during the war from King George VI. The Globe and Mail newspaper even featured a story on the Fighting Schans, who ended up in Port Alberni in B.C., where a memorial exists today to remember the family's contributions.
But, it seems, there isn't many stories floating around about the family in these parts these days.
Rhonda Schan, Darren's wife, said the family came to Lethbridge from Germany and spent many years in the area before moving elsewhere.
"This was their homestead, before moving on again. Leo was first married to Vietta Keller of Coaldale. They had one son Lonah Duane Schan. Our dad and grandpa spent many years working in the Picture Butte/Lethbridge area before his passing 10 years ago," she noted.
"I'm very proud," Darren said, in regards to being a part of the Schan family.
"I've always been concerned there's never been much recognition from around here," he noted.
Schan, who is 53 years old, explained before the war the entire family hailed from southern Alberta before heading out to the frontlines. But after the war the family settled in B.C.
Schan added he nor his father were involved in the military but his son Tyler is and is keeping the Schan family name alive in the Canadian military.
"He's a corporal and he's stationed in Edmonton right now," he said.
Tyler noted he joined the logistics branch at 20 years old — the Independent Field Battery RCA, in 2008.
"It was known then as 18 Air Defense Regiment, Lethbridge. I served in the primary reserve at that unit for five years, completing training in Calgary and CFB Borden in Ontario during that time," Tyler explained.
In 2010, Tyler added, he had the good fortune to be part of Operation Podium — the security task force for the Olympic games and in 2013 he joined the medical branch and returned to CFB Borden for medical training and paramedic training.
"I'm currently a medic at 1 Field Ambulance in Edmonton AB (Lancaster Base), where my primary duty is to provide medical support to combat arms units and personnel during training and deployment," Tyler said.