Funding continues for Coyote Flats school program
Posted on November 24, 2015 by Sunny South News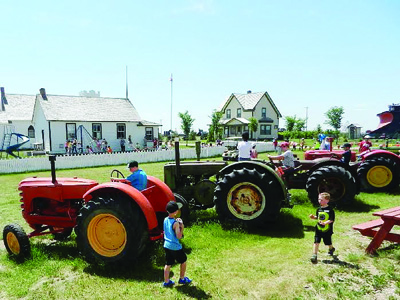 By Stan Ashbee
Sunny South News
Just because winter is upon Lethbridge County residents fast and furious doesn't mean it has to be a quiet time for Coyote Flats Pioneer Village, operated by the Prairie Tractor and Engine Museum Society near Picture Butte.
Pieter van Ewijk, general manager of Coyote Flats, said the local tourist attraction has been awarded $1,600 for funding of the museum's 2016 school program for the purchase of materials and for upgrades. In its annual recognition of community projects, van Ewijk noted in an e-mail, the Blackspring Ridge Wind Project, which is operated jointly by EDF-EN Canada and Enbridge, has recognized the school project for funding.
"This is the second year the Blackspring Ridge Wind Project has offered funding for community projects," said van Ewijk, adding the focus of the projects is around sustainability, education and history through the school program.
"Each year, we host around 650 school kids through our school program, which centres around our 1907 one-room school house," he explained.
According to van Ewijk, the school program has been running for 12 years. The children spend about an hour in the old fashioned one-room school house.
"They are 'called in' by the teacher ringing an old fashioned hand bell and then they learn about attending school in the olden days and they get to write with straight-pen and ink. They get a an hour tour of the village and some buildings, a one-hour nature walk, where they get to spend some time at the mine site, and then a half-hour to an hour on the old fashioned playground and they can climb on selected tractors, as well," said van Ewijk.
Students attend the school program from Picture Butte, Coaldale, Lethbridge and Taber.
Recently, an Oral History Project in conjunction with Coyote Flats, Picture Butte High School (PBHS) and the University of Lethbridge was a awarded a Governor General's award. And, the award has been great for the museum.
"If for no other reason than it has provided lots of publicity including an interview with Peter Watts of 770 Talk Radio in Calgary and Edmonton. We are continuing the oral history program with PBHS — they came to shoot video on Oct. 21, and are continuing to transcribe interviews," he noted. Kimberly Lyall, project co-ordinator for the Oral History Project travelled to Ottawa last month to meet with the Governor General of Canada and received a plaque on the museum's behalf and a cheque for $2,500 to be re-invested in the oral history program.
Certainly, van Ewijk added, the museum hopes to hire another summer student for 2016 to build on this year's success.
Coming up at Coyote Flats is a volunteer appreciation wine and cheese event Dec. 9 and van Ewijk added invitations have already gone out. The museum has also spent the fall and will spend the winter months fundraising, working on grant applications and there are some behind the scenes projects to kick off early in the New Year.
"A big focus is the 2016 budget, which was presented and reviewed at the Nov. 11 board meeting," he said, and van Ewijk is working on a marketing and advertising plan for 2016, which will focus on bringing visitors to Picture Butte and the museum.
Coyote Flats, the museum and van Ewijk really appreciate the support of the board of directors, the volunteers, the community and the communities abroad.
"If 2015 was a successful year, 2016 is shaping up to be even better," said van Ewijk, adding plans are also in the works for a volunteer recruiting event to be held in the spring of 2016.